The Guardian
Leading figure of the early music revival as conductor of the Academy of Ancient Music, harpsichordist and musicologist
The BBC Singers: 90 years young today
The UK's only full-time professional choir celebrates its 90th birthday this week. Tom Service joins in the birthday wishes
The Telegraph
Gareth Malone creates celebrity choir for Children In Need single
Mel Giedroyc, Craig Revel Horwood and Fabrice Muamba are among the famous faces taking part in Gareth Malone's choir for Children in Need
The Independent
Riccardo Muti's resignation: Does Italy have an opera problem?
Conductor Riccardo Muti's departure from the Rome Opera exposes the cultural crisis that Italy is in, says Jessica Duchen
Classical Music Magazine
Christopher Hogwood, 10 September 1941-24 September 2014
Conductor, performer and musicologist Christopher Hogwood, one of the key figures in the historically informed performance movement in the UK and internationally, has died at the age of 73.
Music Week
PRS and Steve Reid Foundation launch the Steve Reid InNOVAtion Awards
PRS for Music Foundation and the Steve Reid Foundation have launched the Steve Reid InNOVAtion Awards.
The Washington Post
Joshua Bell is playing in the Metro again. This time, maybe you won't pass it up.
The stunt was seven years ago, but no one will let him forget it.
The New York Times
The Kronos Quartet as a Dot Cloud
The innovative musicians perform and discuss the special mystery of how a quartet communicates as part of an experiment capturing their sound and movement.
Die Presse
Sounds & Science: Offene Ohren für die Medizin
Eine Veranstaltungsreihe führt uns klingend von Mozarts "hitzigem Frieselfieber" zur modernen Stammzellenforschung.
Limelight Magazine
Maria Callas' house to become an opera academy
Crumbling neoclassical building finally gets reno go-ahead from Greek government.
Twitter
@Hazardchaseltd: "James Gilchrist is simply sensational", "breaking our hearts" as the anguished Jephtha in @TheSixteen's latest disc release says @guardian
@BBCradio3: Looking forward to our #BrahmsExperience. So much to discover behind the beard! Join us @stgeorgesbris for one of our live shows 6-10th Oct
@classicfm: Catherine Bott pays tribute to the late conductor Christopher Hogwood: http://classfm.co/MVe54p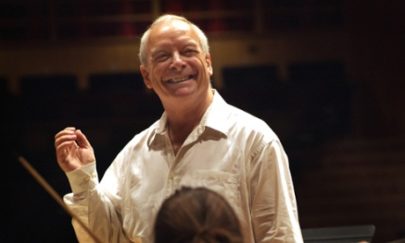 The Guardian