Classical News
Independent
How Tansy Davies turned 9/11 into her opera 'Between Worlds'
Tansy Davies makes her operatic debut with a work about the attack on the Twin Towers. Despite the topic, it is a life-affirming piece, she tells Jessica Duchen
The Times
Classical is purrfect for cats
Cats don't like Cats (the musical). Neither do leopards enjoy Def Leppard. But they might just enjoy a bit of the Rossini-derived Cat Duet.
Classic FM
Opera boss sacked over Wagner production that offended Russian Orthodox Church
The Russian government has sacked an opera director over a controversial production of Wagner's Tannhauser, and is now considering new theatre censorship laws.
Classical Music Magazine
Shortlists for RPS Music Awards announced
The Royal Philharmonic Society has announced the nominees for this year's RPS Music Awards. The 13 categories recognise the outstanding achievements made by artists and organisations in 2014.
BBC Music Magazine
Van Kuijk Quartet win Wigmore prize
French Quartet soars to success in International String Quartet Competition
Sinfini
A new EU directive has been passed to standardise musical pitch. The change, which takes effect on 1 July 2016, will see the frequency of the note a¢ (A above middle C) adjusted upwards, rising from 440 Hz to 450 Hz. This adjustment in pitch will only affect countries within the EU.
Frankfurter Allgemeine Zeitung
Neuer Operndirektor setzt umstrittenen "Tannhäuser" ab
Ein neuer Direktor, ein neuer Name für das Opernhaus und die sofortige Absetzung der umstrittenen Inszenierung: Die Entwicklung im "Tannhäuser"-Streit in Nowosibirsk entsetzt die russische Theaterwelt.
klassik.com
Paukenschlag in München: Horst Seehofers neue Konzertsaal-Pläne
Ehemaliges Olympiastadion soll mit Unterstützung des FC Bayern zum AUDItorium umgebaut werden.
epochtimes
Rostocker Theaterintendant Latchinian entlassen
Der Intendant des Rostocker Volkstheaters, Sewan Latchinian, ist fristlos entlassen worden.
The New York Times
Concert Versions Take Opera to a More Personal Level
LONDON — Staging "Aida" without elephants sounds a lot like doing "Hamlet" without Elsinore Castle.
Le Figaro 
Alagna, Dessay… Les musiciens au secours de France Musique
De Roberto Alagna à Natalie Dessay, en passant par William Christie ou Alexandre Tharaud, la fine fleur des musiciens vole au secours de la station de Radio France.
Twitter
ISM ‏@ISM_music: 'British musicians are worth so much more than we're given, especially as we know how arts can change lives of young people' #MakeMusicWork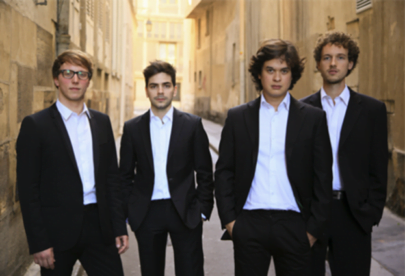 The Van Kuijk Quartet. Photo: BBC Music Magazine