Classical News
The Guardian
Classical music and football – the first XI
Anthony Bateman selects his first XI of soccer-inspired pieces.
Classicfm.com
Rafael Frühbeck de Burgos dies aged 80
The Spanish conductor died yesterday at his home in Pamplona, after a long battle with cancer. Born on 15 September 1933, Frühbeck de Burgos first took up conducting while on military service in the army, progressing to the Hochschule für Musik in Munich. He went on to work with orchestras across the world, including the Rundfunkorchester Berlin, the Deutsche Oper Berlin, the Montreal Symphony Orchestra, the Bilbao Orchestra and the Vienna Symphony.
The Wall Street Journal
Amazon Launches Music-Streaming Service
Prime music will be free for prime subscribers, without advertising.
Classical Music magazine
Radio 3 will lose staff under radio cuts, 'almost certainly' through compulsory redundancy
Sixty-five posts in BBC Radio are to be axed, as part of the cost cutting measures promised three years ago by former director general Mark Thompson in the Delivering Quality First licence fee settlement.
Classical-music.com
Lorin Maazel leaves Munich early
American conductor Lorin Maazel is to leave the post of music director at the Munich Philharmonic a year early due to ill health.
Die Zeit
Künstler oder Komponiermaschine?
Er war ein genialer Dirigent, zeitweilig Präsident der Reichsmusikkammer und Inszenator des eigenen Ruhms, der auch Schatten warf. Zwei Bücher versuchen eine Deutung.
Frankfurter Allgemeine Zeitung
Was für ein begabter Kegelbruder!
Der vor 150 Jahren geborene Richard Strauss war der erfolgreichste Komponist seiner Zeit. Man hat sich angewöhnt, seine himmlische Musik von seinem spießigen irdischen Lebenslauf sauber zu trennen. Warum?                                          
Die Welt
Star-Dirigent Lorin Maazel tritt zurück
Der weltberühmte Dirigent Lorin Maazel gibt nach nur zwei Jahren seinen Posten als Chef der Münchner Philharmoniker auf. Grund: Gesundheitliche Probleme. Nun muss die Orchesterleitung improvisieren.
Der Tagesspiegel
Doku-Satire 'Noseland': Im Schnellkurs Dirigent
Klassisches Konzertleben, mal ganz anders: Aleksey Igudesmans erfrischend dissonante Dokumentation "Noseland" mit dem Geiger Julius Rachlin. 
Klassik.com
Fußball-Fans Plácido Domingo und Lang Lang musizieren gemeinsam vor WM-Finale
Insgesamt sechster Auftritt des Tenors im Rahmen einer Fußball-Weltmeisterschaft
Concerti
Die Konzertwelt braucht neue Formate und Rituale? Markus Fein, Intendant der Festspiele Mecklenburg-Vorpommern, im Gespräch.
Twitter
Classical Records: @Classical_LPs Rare #Classical #Vinyl #LPs in stock at http://991.com/Buy/PresetList.aspx?pageID=865 …
Russell Haswell: @Russell_Haswell Earplugs provided as Aldeburgh targets a new audience @aldeburghmusic @RussellHaswell @EXAUDIensemble http://bit.ly/1hSXoQW 
Classical Ear: @Classical_Ear Lots of new musical experiences for less than the cost of a coffee per month: the #Classical Ear app. http://georiot.co/2wdj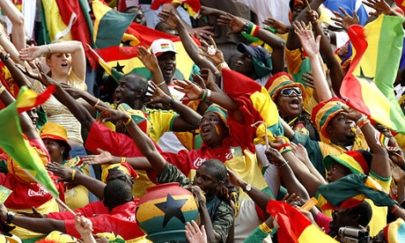 Ghanian football fans at the 2006 World Cup
Photo: The Guardian