The world is a big place with lots of exciting things to experience, especially in the classical music world. In the spirit of our New Year's resolutions blog to try new things and set new goals, we were inspired to begin thinking about our classical music ambitions: orchestras we would love to see live, concert halls we want to visit, instruments we aspire to learn. As well as having a think ourselves, we asked you over on our Facebook and Twitter pages to send yours in too. Here they are:
Prom at the BBC Proms
As one of the best classical music festivals in the world, showcasing the best talent, Promming at the Proms is a longstanding tradition and therefore is a musical must. Standing in the arena or galleries offers an atmosphere unrivaled by buying a ticket and sitting. For only £5, you can experience some of the world's greatest artists. We recommend joining the queue before 16:30 to ensure you get in.
The Last Night of the BBC Proms 2014. Photo: (c) newarktwinning.com
The Last Night of the BBC Proms
Equally, the Last Night of the Proms is a spectacular, patriotic finale to a summer's worth of music. The first half is a traditional concert whilst, during the second half, the Royal Albert Hall transforms into a sea of flag waving, national anthem singing extravaganza. With favourites such as Rule Britannia, Elgar's Land of Hope and Glory and Jerusalem sung every year, it's no wonder tickets are highly sought after and distributed via a ballot each year. Thankfully, Promming is still an option on the Last Night although you will need to get there much earlier than on a regular night!
The 2015 BBC Proms is announced on 23rd April
Go to an Opera or Ballet
Although the prospect of going to an opera or ballet for the first time can seem scary, The Telegraph have written a handy guide to etiquette at such events so you can enjoy the concert and look like a seasoned pro.
Sitting in an orchestra whilst they are playing
Carolin in our Berlin office suggested this great idea. Just imagine watching a pianist's hands whiz over the keys or feeling the vibrations of the timpani!
Go to Carols at Kings
One of our interns, Ruth, said she would like to go to the traditional Nine Lessons and Carols at King's College Cambridge one Christmas rather than just watching it on television. Guaranteed to get you in the festive mood.
Learn to play an unusual musical instrument
The world is full of violinists, why not take up the Chinese Yangqin?!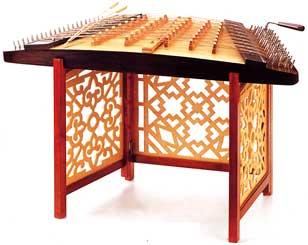 A Chinese Yangqin. Photo found at Sonic Adventures
Visit the Philharmonie de Paris
Extremely topical at the moment as it only just opened this week (14th January 2015). Sarah, one of our Account Managers who suggested this, and others interested, should take a look at their upcoming season programme for more details.
Go to an open air concert
Our founder, Kathleen Alder, suggested this one: going to an open air concert in a beautiful setting such as Scandinavia or somewhere in Iceland. Beethoven under the Northern Lights? Yes please!
We've clearly got a lot to tick off our list! Keep tweeting us @WildKatPR with your suggestions-see you in Paris!