On Wednesday evening, the WildKat London team were pleased to attend The Culture Debate in the Linbury Studio Theatre at the Royal Opera House. The debate, organised by the Creative Industries Federation and live streamed by BBC Arts, allowed members from arts industries to question representatives from the UK's major political parties on their policies. Culture Minister Ed Vaizey and Deputy Labour Leader Harriet Harman were joined by the Martin Dobson, Baroness Bonham-Carter and Peter Whittle, and the debate was chaired by Martha Kearney.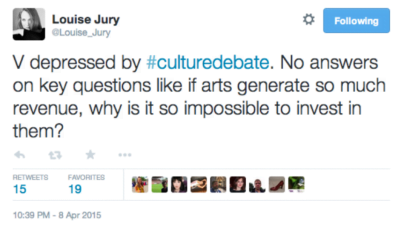 After hearing from the speakers, social media feeds were overwhelmed with comments about the amount of consensus occurring. All spokespeople professed their support for the arts, but without any real attention towards how key issues can be addressed. In an audience full with teachers, CEOs of PR and advertising agencies and young people new to the sector, many participants gladly shared their own experiences with the panel: mainly highlighting the lack of support they felt they had received from the government.
Although we heard about the £7.7 billion that the arts contribute to the economy each year, and the fact that funding in Germany and Sweden has increased every year for the last 7 years in comparison, questions at the beginning of the debate "why say – we love you; here's less?" were continually avoided. Many of the stories from individuals, including teachers, who had struggled and left their jobs because they felt there was no room for creativity, were dismissed as "anecdotal" by Ed Vaizey. Helpfully, Harriet Harman was able to provide some more evidence of the decline in arts subjects within schools, and followers took to social media to provide some more interesting statistics. The ISM, for instance, cited that in 2007 61,000 pupils studied music for GCSE, whilst in 2014 this had dropped to 47,000 pupils. Baroness Bonham-Carter's reference to an "inspirational drama teacher" at Eton also irritated the audience, seeming, as Caroline Crampton from the New Statesmen wrote: "to skate over the other benefits private education brings."
Education remained a great focus of the debate. Ed Vaizey claimed that he does see art as being at the forefront of much primary education, whilst Harriet Harman continued to address the issue that equal opportunities are not provided to children in schools. This was mentioned as an issue within and outside of London, and one that was not addressed with any clear strategy. UKIP's answer to this was to increase the amount of grammar schools, however as Caroline Crampton tweeted "It is not clear what this does for the arts". When the conversation moved on to unpaid internships and the cost of living in London, everyone was yet again stuck for any form of solution, most notably Baroness Bonham-Carter, who could only agree with the statement.
The question of how far we should rely on schools to promote culture was also raised. As Londoners benefit from £69 of arts funding per head, compared with £4.50 in the rest of the country, how can we expect every school to perform equally in the arts? Points about creativity were also raised by the audience more generally. Creativity needs to be applied to our working lives, not merely encouraged vaguely in infant years, and then forgotten about.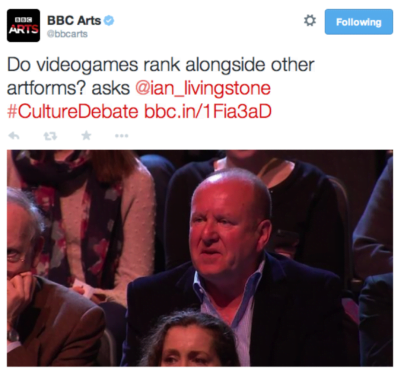 This Culture Debate left many questions unanswered. Whilst it is difficult to quantify the monetary value of culture on a city or town and its inhabitants, the most pressing question for us was highlighted by Louise Jury, the Evening Standard's Chief Arts Correspondent, after the debate: "if the arts generate so much revenue, why is it so impossible to invest in them?"
Let's hope we will not be having an identical conversation in 4 years' time.