As our New York office continues to expand, we are very happy to welcome London-born but NYC-based composer, guitarist and singer Danielle Eva Schwob as our newest client at WildKat PR. Described by Time Out NY as a "genre-bending, worldly musical chameleon", Danielle has established a multi-faceted career that spans the worlds of contemporary classical, pop and film.
Danielle has made a name for herself as a "notable cross-genre composer" (The New Yorker) with "deep roots in rock music" (The New York Times). Her work has earned honours from the Aaron Copland Fun for Music, The American Composers Forum, Con Edison, ASCAP and BMI.  Also active as a guitarist, orchestrator and arranger, she has worked on projects with artists including Philip Glass and Tara Hugo, Ben Folds and The Pogues.  She also serves as Artistic Director of SYZYGY New Music, an award-winning cross-genre collective that promotes adventurous new music.
The world premiere of Danielle's newest commission Three Self Portraits will take place at Brooklyn's Roulette on 19th April 2015.  An introspective 'triptych' of solo pieces, the work is inspired by the self-portraits of David Hockney, Francis Bacon and Lucian Freud. Distinct in style but unified by the confident, melancholic undertone of their paintings, the three seminal English artists had a palpable influence on one another's work, socializing frequently and often sitting for portrait sessions.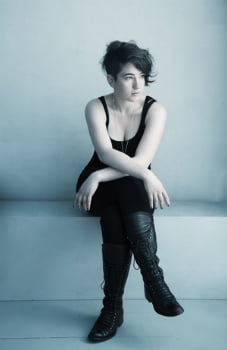 Each solo movement functions as a 'score' to one of the paintings, mirroring its mood and style while reflecting the feelings of intimacy and intensity involved in crafting or viewing a self-portrait.   It is scored for solo violin, solo cello and solo piano and can be performed either as a multi-movement work or as three standalone solo pieces.
Some of New York's most sought-after musicians in the new music scene will team together for the premiere: "One of the new stars of new music" (Los Angeles Times) Vicky Chow; Violinist Jennifer Choi, recognised for breaking the conventional boundaries of solo violin, chamber music and creative improvisation; and also "brilliantly assured" (Washington Post) cellist Michael Nicolas.
Three Self Portraits will appear alongside John Zorn's first and latest piano trios Amour Fou and The Aristos. You can purchase your tickets here:
Visit Danielle's website, Twitter and Facebook for updates on upcoming projects.



Photos: Vicky Chow, Jennifer Choi and Michael Nicolas