WildKat PR is very pleased to announce that we will be working with the Mahler Chamber Orchestra! This is an exciting time to be following the orchestra; they are due to play three times at the annual BBC Proms with their Artistic Partner and Norwegian pianist Leif Ove Andsnes. Together they will perform all five of Beethoven's piano concertos, which will represent the end of their wider project 'The Beethoven Journey' which has spanned four years. This scheme also included the award-winning 'Feel the Music' project. It picks up on the subject of deafness, by which Beethoven was increasingly affected during his life. In various cities across Europe, the MCO is inviting children who are deaf or have a hearing disability into the world of the orchestra, to explore how music can be experienced with all of one's senses.
Founded in 1997 by a group of young musicians with the support of Claudio Abbado, the Mahler Chamber Orchestra's name reflects its roots in the Gustav Mahler Youth Orchestra. With 45 members spanning 20 countries, the MCO prides itself on working musically as a chamber orchestra in the spirit of their founding mentor Claudio Abbado characterized by tight ensemble playing among alert and independent musical personalities. Their core repertoire is in the Viennese Classical and Romantic periods, whilst also playing more contemporary works and world premieres. This summer, the MCO will perform the US Stage Premiere of George Benjamin's Written On Skin at the Lincoln Center, New York, following their performance of the World Premiere at Aix-en-Provence in 2012.
With the BBC Proms and the stage premiere, summer 2015 is shaping up to be a busy time for the Orchestra. It will end with the MCO's return to the Lucerne Festival with Daniele Gatti where it forms the core of the Lucerne Festival Orchestra every year. In September, ensemble will launch the Carl Nielsen portrait project at the Musikfest Berlin, a celebration of the composer in his 150th birthday year, with a performance of 'Sinfonia Semplice.'
As well as working on the BBC Proms, we will also be working with MCO on a new brand and visual identity. Keep up to date with the orchestra, their news and key dates via their website and Facebook.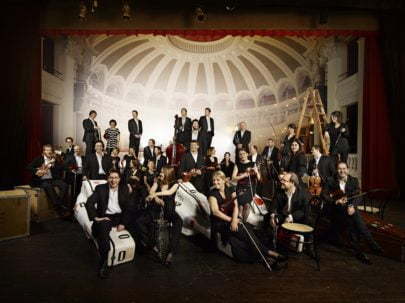 The Mahler Chamber Orchestra. Photo: Deniz Saylan