Classical Music launches Harmony In Mind mental health campaign
Classical Music magazine has today launched a major campaign to unite the sector in combatting mental illness.
Joined by six of the leading mental health and industry charities working in the classical music business including British Association for Performing Arts Medicine, Incorporated Society of Musicians, Musicians' Union, Music Support, The Royal Society of Musicians, and Time to Change (the mental health anti-stigma movement led by Mind and Rethink Mental Illness), Classical Music is calling on industry leaders to engage in efforts to better support musicians and staff and deal proactively and holistically with the underlying causes of the crisis.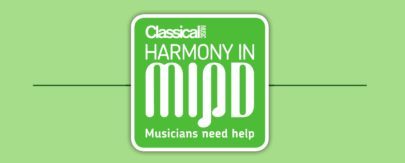 Over the course of its year-long campaign, Classical Music will provide a much-needed platform to share best practice, new research, advice and resources for musicians. It will also launch initiatives for the industry such as creating an online campaign room, a virtual forum for visitors to pledge their support, share experiences and information, and will create opportunities for the industry to come together to discuss and debate issues and solutions.
---
Stephen Sondheim awarded Honorary Membership of the Royal Philharmonic Society
Acclaimed composer and lyricist Stephen Sondheim has been made an Honorary Member of the Royal Philharmonic Society in recognition of his outstanding services to music.
Honorary Membership was first granted to Carl Maria von Weber in 1826, and subsequently to an array of celebrated composers, conductors, performers, commentators, patrons, programmers, publishers and educationalists. Among its recipients are Mendelssohn, Berlioz, Liszt, Wagner, Brahms, Dvorak, Verdi, Tchaikovsky, Rachmaninov, Richard Strauss, Ravel, Stravinsky, Sibelius, Copland, Menuhin, Boulez and more recently Dame Evelyn Glennie, Marin Alsop, Stephen Hough and Sir George Benjamin.
---
Mögliche Folgen der EU-Urheberrechtsreform Uploadfilter für Beethoven
Vergangene Woche hat das Europaparlament der umstrittenen Urheberrechtsreform zugestimmt. Kritiker der Reform befürchten, dass nun besonders die Videoplattform "Youtube" häufiger Musik blockiert. Das könnte auch Folgen für Klassikhörer und -hörerinnen haben.
Den Anfang von Beethovens fünfter Sinfonie kennt nahezu jeder. Sie ist praktisch ein Kultur- und Allgemeingut. Ist es folglich kein Problem, wenn man eine Aufnahme der Fünften im Internet teilt? Ganz so einfach ist das nicht: Beethovens eigene Rechte an der Musik sind zwar längst erloschen, denn das passiert bereits 70 Jahre nach dem Tod des Urhebers. Aber es gibt auch das Leistungsschutzrecht, etwa für das Orchester und auch das Plattenlabel. Dieses Recht wird im Internet oft gebrochen: Etwa auf der Videoplattform Youtube, wo viele Aufnahmen landen, ohne dass Künstler und Label dafür bezahlt wurden. Mit dem Artikel 17 der EU-Urheberrechtsreform haften die Plattformen künftig für solche Verstöße. Sie sollen deswegen Lizenzen bei den Rechteinhabern erwerben. Das Ziel: Eine angemessene Vergütung für Kreative im Internet.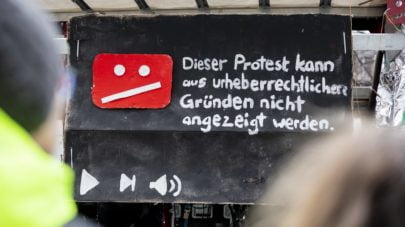 Possible consequences of the EU copyright reform – Upload filter for Beethoven
Last week, the European Parliament approved the controversial copyright reform. Critics of the reform fear that the video platform Youtube may now block music more often. This could also have consequences for classical listeners. Almost everyone knows the beginning of Beethoven's Fifth Symphony. It is practically a cultural and public property. So it's not a problem to share a recording of the Fifth on the Internet? No, it's not that easy: Beethoven's own rights to the music have long been extinguished, as it has been more than 70 years since the death of the composer. But there is also the ancillary copyright, for example for the orchestra and also the record label. This right is often broken on the Internet: For example, on Youtube, where many shots land without artists and labels being paid for it. With Article 17 of the EU Copyright Reform, the platforms are now liable for such violations.