Classical News
The Guardian
How can you make an opera about 9/11?
Opera has always thrived on grandiose spectacle, but are the events at the World Trade Center a tragedy too far? The team behind ENO's new work Between Worlds talk about dramatising a day on which more than 2,700 people lost their lives
English National Opera hopes foyer cafe will help finances match artistic success
Plans to open London Coliseum's lobby as a cafe-bar are latest effort by ENO to make up for cut in Arts Council funding
Chopin movement music to ears of Polish tourism officials
A concerted effort is under way to cash in on the composer, as the country seeks to build on the 3 million visitors who come to Warsaw each year
The Telegraph
Why are artists so difficult to work with?
A new film about Argentinian-born pianist Martha Argerich reminds us that men do not have a monopoly on egoism, says Ivan Hewett
Classical Music Magazine
Croydon Council draws up proposals for Fairfield Hall refurbishment
The long-standing issue of when and how to redevelop Croydon's Fairfield Halls site has come centre-stage with the news that leading international consultancy Mott MacDonald and architects Rick Mather have been appointed by the local council to draw up proposals.
Klassik.com
Sinfonieorchester Biel-Solothurn protestiert gegen Sparmaßnahmen
Die Musiker des Sinfonieorchesters Biel-Solothurn protestieren gegen die Sparmaßnahmen der Stadt, die den Umbau des Klangkörpers von einem Berufs- zu einem Projektorchester vorsehen.
nmz – neue Musikzeitung
Johann Strauss Festival in Dresden mit «Cagliostro»-Premiere
Die fünfte Ausgabe des Musikfests beginne am 2. Mai mit der Premiere der Operette «Cagliostro in Wien», teilte die Bühne am Dienstag mit.
Musik heuteaa
Untersuchungsausschuss Staatsoper Berlin ab 8. Mai
Der Untersuchungsausschuss zur Kostenexplosion bei der Sanierung der Berliner Staatsoper nimmt voraussichtlich am 8. Mai seine Arbeit auf.
BroadwayWorld.com
New Yorker Classical Music Critic Andrew Porter Dies at 86
Music critic Andrew Porter died either Thursday night or early Friday in London. He was 86. He died from complications of pneumonia, and it was confirmed by Sheila Porter, his sister and only immediate survivor.
Le Parisien
Piratage de TV5Monde : le gouvernement dénonce un «acte terroriste»
Sur place, la ministre de la Culture et de la communication a annoncé qu'elle allait réunir «l'ensemble des médias audiovisuels, et peut-être la presse écrite», d'ici vendredi, pour éviter ce type d'attaques.
Le Monde.fr
Violente controverse autour de l'avenir des théâtres berlinois
Si la nouvelle est confirmée, c'est une révolution. Chris Dercon, le directeur de la Tate Modern de Londres, pourrait succéder à Frank Castorf à la Volksbühne de Berlin.
Twitter
NS Culture ‏@NS_Culture : So, everyone agrees that culture is good, then? What we learned from the #CultureDebate: http://www.newstatesman.com/politics/2015/04/four-things-we-learned-culture-
Classical Music Agen ‏@AClassicalMusic : BBC Music Magazine Awards: playing of integrity and passion http://ift.tt/1FpuZHj  #classicalmusic
The Night Shift ‏@OAENightShift : A 'simple' guide to when to clap at classical concerts… OR come to The Night Shift and clap when you feel like it. http://www.insidethearts.com/neoclassical/2015/04/when-to-clap-at-the-symphony-a-guideline/ …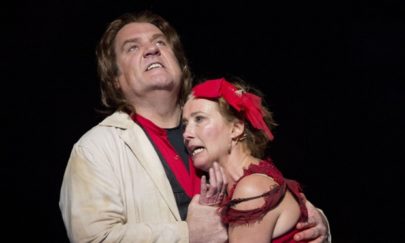 Bryn Terfel as Sweeney Todd and Emma Thompson as Mrs Lovett in the ENO's production of the Stephen Sondheim musical, which is the latest in a run of artistic successes for the company. Photograph: Donald Cooper/Rex