Classical News
The Guardian
Frank Peter Zimmermann loses his Stradivarius as prices soar
In a market driven by money and aesthetic one-upmanship, what chance do real musicians have of playing older instruments?
Opera director charged by Russian authorities with offending Christians
Timofei Kulyabin attacks 'absurd' charge over his production of Richard Wagner's Tannhauser which is alleged to have 'desecrated' the image of Jesus Christ
The Strad
Violinist Joshua Bell on the art of conducting
In 2011 the Grammy Award-winning artist became music director of the Academy of St Martin in the Fields, where he conducts from the concertmaster's chair
International Arts Manager
Jamie's Concerts return to UK for carers of autistic children
In April and May 2015, the Japanese pianist Noriko Ogawa will give her next two Jamie's Concerts in the UK. Jamie's Concerts form an ongoing series that started in 2004, designed specifically for parents and carers of children with autism.
Universal and Qyuki back Mumbai dance and music Dharavi Project
Universal Music Group India (UMGI) is to team up with Indian creative networking, design and production studio Qyuki on an ambitious social improvement project in Dharavi, Asia's largest slum area located in Mumbai.
BBC Music Magazine
Hallé names Jamie Phillips its new associate conductor
Phillips will take new post from the 2015-16 season
Zeit Online
Der Tickethändler Eventim verkauft nicht nur Konzertkarten, er betreibt nun auch die großen Bühnen selbst. Künstler und Konzertagenturen fürchten um ihre Einnahmen.
Frankfurter Allgemeine
Ohrenzeuge der Klangkunst eines halben Jahrhunderts
Er hat uns in seinem unermüdlich bewegten Unruhestand und seinen geschliffenen Texten ständig ermahnt, dass wir so etwas wie Musikkultur brauchen: Ein Nachruf auf Gerhard Rohde.
Der Tagesspiegel
Die Brandenburgischen Sommerkonzerte feiern ihre 25. Saison mit einem besonderen Programm, das viele Stars aufbietet und spannende Musikerkombinationen.
audiophil
SAE Institute Deutschland startet Music Business Studiengang
pizzicato
Nach Dvorak nun Gershwin und Ligeti für Deutschlands Jugend
Das erfolgreiche Deutschland-weite Musikvermittlungs-Projekt der ARD wird fortgesetzt: Nach dem erfolgreichen Start im vergangenen Jahr mit dem 'Dvorak-Experiment – Ein ARD-Konzert macht Schule' geht die gemeinsame Edukationsarbeit aller Landesrundfunkanstalten in Kooperation mit dem Deutschen Musikrat nun mit dem 'Gershwin-Experiment' in die nächste Runde.
El Mundo
Sabina: 'Hay una caza de brujas desde Hacienda y el Gobierno'
Tras su ataque de miedo escénico el pasado diciembre en Madrid y sus problemas con Hacienda (cerca de 4 millones de euros le exige) el cantante presenta 16 nuevos conciertos de la gira '500 noches para una crisis' y su correspondiente CD-DVD.
Twitter
Music ‏@BritishMusic: "There is plenty of diversity in British music. The problem is we're not acknowledging it" @Independent http://www.independent.co.uk/voices/comment/brit-awards-2015-commercial-success-is-rewarded-no-matter-how-bland-and-banal-you-have-to-be-to-get-there-10069877.html …
DCMS ‏@DCMS :.@edvaizey on #creativeindustries: The creative industries are making an enormous economic contribution to London and the UK #DCMSpqs
New York Times Arts @nytimesarts: Royal Ballet Choregrapher to Open Studio Space in London http://nyti.ms/1DVEwdn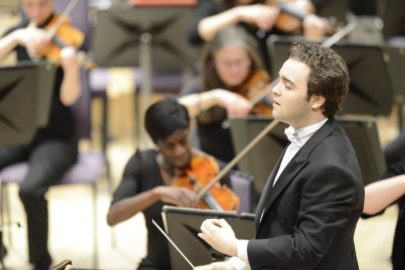 Jamie Phillips. Photo: Russell Hart