Classical News
The Guardian
As the conductor and composer celebrates his 90th birthday, we look back at some of his most notorious pronouncements
Opera world pays tribute to Germanwings crash victims Maria Radner and Oleg Bryjak
Bryjak's beautiful bronzed tone and Radner's rich, deep and true contralto will be missed on the stages of Europe
The Telegraph
The modernist maverick: Pierre Boulez at 90
Ivan Hewett pays tribute to classical music's most contentious revolutionary
The Strad
Johansen International Competition for Young String Players names winners
The triennial event, held in Washington DC, is open to young violinists, violists and cellists
Gramophone
The Montreal Symphony return to Decca
A five-year recording contract starts with a stage rarity by Jacques Ibert and Arthur Honegger
Frankfurter Allgemeine
Beim Absturz der Germanwings-Maschine in Südfrankreich zählten auch die Opernsänger Maria Radner und Oleg Bryjak zu den Opfern. Trauerbekundungen kommen aus ganz Europa.
Er ist der mächtigste Musiker der Moderne und braucht kein C-Dur, um in die Ewigkeit zu finden: Zum neunzigsten Geburtstag des Komponisten und Dirigenten Pierre Boulez.
Süddeutsche Zeitung
Pierre Boulez ist nicht nur einer der besten lebenden Komponisten. Er ist auch Dirigent, Intellektueller und Ensemblegründer. Jetzt wird er 90.
Die Welt
Dieser Opernsprenger hasste "lackierte Friseure"
Er ist die mächtigste noch lebende Figur der Musik des 20. Jahrhunderts: Der Komponist, Dirigent und Theoretiker Pierre Boulez wird 90. Der Kunstrevolutionär geriet 2001 sogar unter Terrorverdacht.
Musik Heute
Hamburger Symphoniker und Jugendorchester besiegeln Patenschaft
Die Hamburger Symphoniker und das Felix Mendelssohn Jugendsinfonieorchester (MJO) haben ihre Patenschaft besiegelt: Wie die Symphoniker am Mittwoch mitteilten, ist die Zusammenarbeit beider Ensembles seit Sonntag als "tutti pro" Orchesterpatenschaft anerkannt.
The New York Times
Apple and Beats Developing Streaming Music Service to Rival Spotify
In what would be the biggest change to its music strategy in years, Apple is pressing ahead with a sweeping overhaul of its digital music services that would allow the company to compete directly with streaming upstarts like Spotify.
pizzicato
Stockholm To Launch Biggest Sibelius/Nielsen Celebration
In 2015, the musical world commemorates the 150 years anniversary of two grand composers of symphonic music: Jean Sibelius and Carl Nielsen.
Twitter
Resident Advisor ‏@residentadvisor : Jeff Mills to perform with BBC Symphony Orchestra at the Barbican Centre http://www.residentadvisor.net/news.aspx?id=28902 …
Aldeburgh Music ‏@aldeburghmusic : The brilliant Pierre Boulez is 90 today. June's #AldeburghFestival has a major retrospective: https://tickets.aldeburgh.co.uk/Online/2015-festival-pierre-boulez-at-90 …
Culture Republic ‏@culture_public : Musicians can now share full-length tracks on #Twitter thanks to a partnership with Rhapsody http://on.mash.to/1D0XoZ2  #digitalmarketing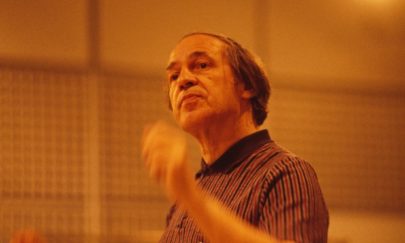 Pierre Boulez, photographed in 1981. Photograph: Jacques Haillot/Jacques Haillot/Corbis