Classical News
In today's news, can classical music stimulate milk production in cows, classical music prevents seizures and whether Bach's wife actually wrote his cello suites.
Classic FM
Simon Pegg: "I'm amazingly excited about the new Star Wars film"
The great British actor came in to Classic FM and told us why he's super excited for the new Star Wars film, his passion for movie music – and what it was like to work with the legendary Pythons for his new film 'Absolutely Anything'.
The Strad
I discourage my students from using a shoulder rest, says violinist Aaron Rosand
Only without a shoulder rest can one develop a personal sound that is identifiable, insists the Curtis Institute and Mannes College professor
Can classical music stimulate greater milk production in cows?
'Usually I refuse to play in front of an audience that eats while listening, but I can make an exception for cows. Especially because they do not speak during a concert'
Morning Ticker
It seems that jazz and classical music prevents epileptic seizures
Given the calming effects that the genres of classical and jazz music can possibly have, these 2 choices of music may be extremely beneficial to those with the condition.
Slipped Disk
Not by Mrs Bach: Johann Sebastian did it by numbers
Ruth Tatlow led the academic campaign to discredit the recent remote theory that Bach's cello suites were written by his wife.
Die Welt

Warum Google den epochalen Alphabet-Umbau vollzieht
Überraschende Neustrukturierung bei Google: Die Webaktivitäten werden von allem getrennt und eine neue Mega-Holding namens Alphabet geschaffen. Die neue Struktur ist nicht nur für Investoren gut.
Klassik Akzente

Zum 150. Geburtstag – 25 Fakten über Jean Sibelius, Teil 1
Ein Komponist mit dem Hang zum Extravaganten – Werfen Sie mit unseren ersten fünf Fakten einen Blick hinter die Fassade des finnischen Musikers Jean Sibelius, der in diesem Jahr 150 Jahre alt geworden wäre.
Musik Heute

Salzburger Festspiele: Viotti gewinnt Dirigentenwettbewerb
Der Schweizer Dirigent Lorenzo Viotti hat den Young Conductors Award der Salzburger Festspiele gewonnen. Der 25-Jährige setzte sich gegen zwei Mitbewerber durch, teilten die Veranstalter am Montag mit.
Classicalite

David Byrne of Talking Heads Gives 'TED Talk' on Importance of Acoustics
In his TED seminar, Talking Heads frontman David Byrne exhibits an acoustical awareness that might surprise his fans.
BWW Classical Music World

BWW Interviews: Stéphane Denève Helps Create the Repertoire of Tomorrow
French conductor Stéphane Denève has come a long way from his birthplace in the border town of Tourcoing in northern France to his compelling presence with orchestras throughout the world.
Twitter
BrandRepublic @BrandRepublic: Is Facebook entering a music streaming war asks @_JamesH93 on @TheWallUK http://buff.ly/1DF5PKA  @MintTwist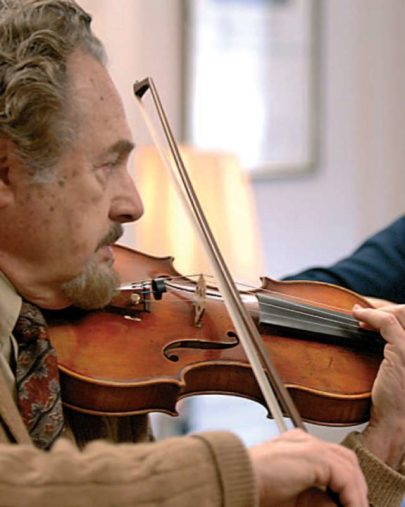 Aaron Rosand discourages his students from using a shoulder rest
Photo credit: The Strad