Classical News
Guardian
Suite scandal: why Bach's wife cannot take credit for his cello masterwork
A film detailing an Australian music professor's theory that Bach's second wife Anna Magdalena composed one of his most famous works is causing a classical stir. Renowned cellist Steven Isserlis debunks the claim
Telegraph
The Theory of Everything – official soundtrack – album stream
Listen to the soundtrack for the biographical drama The Theory of Everything, starring Eddie Redmayne as Stephen Hawking
Classical Music Magazine
Cardiologist who treated Britten rejects syphilis claims, in peer-reviewed journal
Controversial claims made in a biography of Benjamin Britten that the composer was suffering from syphilis at the time of his death have been dismissed in a peer-reviewed article published in the Journal of the Royal Society of Medicine.
BBC Music Magazine
Dame Felicity Lott announced as patron of City of London Sinfonia
The legendary soprano will appear at family concerts across London
The Strad
Timothy Ridout wins inaugural Cecil Aronowitz International Viola Competition
The UK competition was open to violists of all nationalities under the age of 21
Pizzicato
Beethoven-Festspielhaus Bonn: Architekten aus Aachen, London und Luxemburg in der Finalrunde
Für das geplante Beethoven-Festspielhaus hat das Preisgericht für den Architektenwettbewerb drei Siegerentwürfe ausgewählt.
Klassik.com
Beethoven-Ring 2014 für Fagottistin Sophie Dartigalongue
"Bürger für Beethoven" entscheiden sich für französische Holzbläserin
Codex Flores
Erik Nielsen wird Musikdirektor des Theaters Basel
Der amerikanische Dirigent Erik Nielsen wird mit Beginn der Spielzeit 2016/2017 Musikdirektor des Theaters Basel.
The New York Times
Met's Divisive Opera Is Selling Tickets
'The Death of Klinghoffer' Helps Box Office
Il Messaggero
La Scala vende l'Aida di Zeffirelli al Kazakistan.
«Una sorta di vendetta da parte dei "cervelloni" della Scala che stanno pensando a me come un artista da dimenticare».
Twitter
Classic FM @ClassicFM: Ooh… Harry Christophers has just been asked what's the most annoying thing about being a conductor: http://classfm.co/ypEtTu  @TheSixteen
Opera North @Opera_North: 5 reasons why you should SING and why it's good for your health: http://bit.ly/1wuMLXJ  via @etribune #WellnessWednesday
IntArtsManager @IntArtsManager: What does composer & digital producer @rjbirkin think is the next big thing? We ask him this (and 19 other questions) http://bit.ly/1wELjRI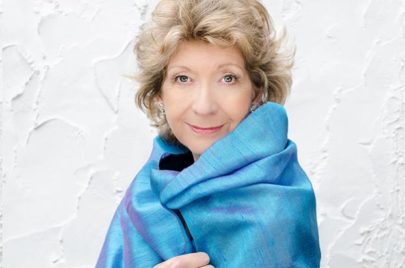 Dame Felicity Lott, Photo: BBC Music Magazine