Classical News
In today's news, Ivan Hewett reports on the problem with the opening night of the Proms, auto-translating opera glasses are tested out in Avignon and Alan Curtis dies.
The Telegraph
The problem with the First Night of the Proms
It's the world's greatest music festival – so why does it always get off to such a shoddy start, asks Ivan Hewett
The Guardian
Dadaville at the First Night of the Proms – and six great Proms premieres
In the spirit of the concert series' opening night, Tom Service honours the long tradition of presenting new music at the Proms
Classical Music Magazine
Auto-translating opera glasses trialled at Avignon
The world's first auto-translating opera glasses made their debut at this year's Avignon Festival.
Alan Curtis, scholar, conductor and harpsichordist, dies aged 80
The American scholar, conductor and harpsichordist Alan Curtis (17 November 1934 – 15 July 2015) has died aged 80.
Classic FM
Sharks are a little less scary thanks to Joshua Bell and the London Symphony Orchestra
In an effort to boost the image of these endangered animals, the Discovery channel has commissioned a new piece of music to represent sharks – dialling down the terror and dialling up the majesty.
Die Zeit

Von Wölfen und Menschen
Die Wunderdunkelheit der Seele. Der schottische Installationskünstler Douglas Gordon zeigt mit "Neck of the Woods" Musiktheater in Manchester.
Klassik Akzent

Klassische Ouvertüren – Große Dirigenten der Wiener Philharmoniker
Die Wiener Philharmoniker sind eines der vornehmsten Orchester Europas. Jetzt legt Decca ein klassisches Album des Traditionsorchesters neu auf: bedeutende Ouvertüren von Mozart, Beethoven und Schubert.
Die Welt

Oper Frankfurt beendet Spielzeit mit Rekordergebnis
In der Saison 2014/15 hat die Oper Frankfurt/Main für rund 7,5 Millionen Euro Eintrittskartenverkauft, teilte das Opernhaus gestern mit.
Il Messaggero

Verdi, 82 lettere del maestro salvate grazie alle donazioni: rischiavano di andare perdute
«Caro Arrivabene, ieri sera Aida benissimo, esecuzione d'insieme e di parti buonissimo, mise en scène, idem, Stolz e Pandolfini benissimo, Waldman bene… Il pubblico le ha fatto buon viso.
San Francisco Classical Voice

Summertime and Musicals Are Easy (But with Substance) 
The season of musicals has arrived with a vengeance. Here we are taking a look at just two productions opening this week for long runs, one riding on Stephen Sondheim's illuminating/devastating lyrics, the other a West End-Broadway sensation on tour.
Twitter
Maria Camahort @mariacamahort: Back home after two gigs with the quintet and #iberiancolours at @ArtinAction1 !!! Great place to spend the day!! 🙂
Your Call… @yourcallopera: #tbt Lisa waiting for the train to the first day of rehearsals – not long until the performances @teteateteopera!
The Amati Magazine @AmatiMagazine: …and @RichardBratby's visit to Newark became our most-viewed piece EVER in just three days. http://magazine.amati.com/107-instrument-articles/modern-makers-newark-school-violin-making.html …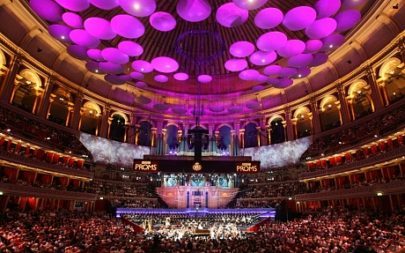 Opening night at the Proms
Photo: Lewis Whyld/PA Wire