Classical News
In today's news, Nigel Farndale criticises audiences for booing Guillaume Tell, a tribute to Sibelius in the Telegraph and Christian Thielemann is appointed music director of Wagner festival. Also, hidden choral gems to be uncovered by BBC Radio 3 and RPS.
Guardian
Thielemann makes history as first music director for Bayreuth – with free parking
The controversy-torn Wagner festival has appointed Christian Thielemann as its first independent music director. Unusually, this news emerged in the car park
Telegraph
We should be applauding not booing the new Guillaume Tell
Challenging art, such as the new version of 'William Tell', ought to shock and surprise its audience, says Nigel Farndale
Finland: On the trail of Jean Sibelius
To mark 150 years since the composer Jean Sibelius's birth, Harriet O'Brien seeks out the Finnish landscapes that inspired him
The Times
The audience was the real outrage at this opera scandal
Don't apologise for that controversial rape scene. Anna Picard explains why
Classical Source
Encore Choral: Hidden choral gems to be uncovered by BBC Radio 3 and RPS
Works by Oliver Knussen, Robert Saxton and Jonathan Lloyd amongst hidden gems of contemporary British choral music to be broadcast and performed live across the UK in 2016/2017
Klassik-heute
Christof Prick wird Chefdirigent des Beethoven Orchesters Bonn
Der in Hamburg geborene Dirigent leitete zuvor als Generalmusikdirektor die Orchester in Saarbrücken, Karlsruhe und Hannover und war außerdem Music Director des Los Angeles Chamber Orchestra. Für die Saison 2016/2017 ist es der Stadt Bonn gelungen, Christof Prick als Chefdirigenten für das Beethoven Orchester Bonn zu engagieren.
Klassik.com
Wiener Staatsoper erzielt Einnahmerekord
Die Wiener Staatsoper konnte eigenen Angaben zufolge für die vergangene Saison einen Einnahmerekord verzeichnen. Sie erwirtschaftete rund 34 Millionen Euro.
Pizzicato
Moscow Music Critics Awards Special Prize to Lucas Debargue
The members of the Moscow Music Critics Association surprised by giving their Special Award to the last-placed pianist in the official list, yet one of the favourites of this year's Tchaikovsky competition, 24 years old French pianist Lucas Debargue.
France Musique
Une scène de viol collectif fait polémique au Royal Opera House
Une scène de viol collectif dans une mise en scène de Guillaume Tell de Rossini au Royal Opera House à Londres a été copieusement huée par le public et a suscité l'indignation de certains critiques.
Classical Word
Festival D'Aix-en-Provence Launches 2015 Season Today
Festival d'Aix-en-Provence 2015, under the leadership of General Manager Bernard Foccroulle, will present world premiere productions of operas by Handel and Mozart
Tweets
DCMS @DCMS: Dinah Caine CEO @SkillsetSSC shares her views on why the #creative industries are bursting with opportunity http://bit.ly/1dxlrTG  #CreateUK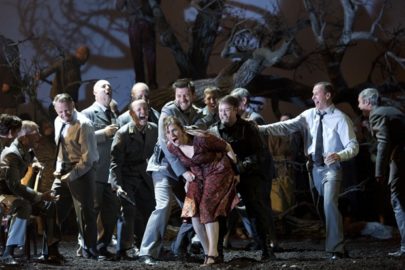 Scandal at the opera house
Photo credit: Donald Cooper/ The Times