Classical news
In today's news, conductor and violinist Walter Weller dies, The New York Philharmonic reveals their new digital-music partnership with Google and James Macmillan unveils his new Cumnock Tryst programme. Also, the Boston Symphony will provide recordings via Google play, a new instrument to replace the piano and the internet sensation which took the world by storm yesterday: elephants dancing to classical music.
Gramophone
Conductor and violinist Walter Weller has died
Walter Weller, who held conducting posts in Switzerland, Germany, Spain, Scotland, Belgium and Norway, has died: he was 75.
The Wall Street Journal
New York Philharmonic Unveils Digital-Music Partnership With Google
New initiative, dubbed Classical Live, is part of the orchestra's efforts to expand its global audience
The Times
Roll over, Beethoven, the piano is yesterday's musical keyboard
Roland Lamb claims that his company has reinvented the keyboard, taking "a bigger leap from the piano to what we've created than there was from the harpsichord to the piano".
The Guardian
Are these elephants really dancing to classical music? 
A Belgium zoo captures footage of a group of elephants appearing to sway in unison to live classical music.
Classical Music Magazine
Sir James MacMillan unveils 2015 Cumnock Tryst programme
Sir James MacMillan, who received a knighthood for services to music in the 2015 Queen's Birthday Honours, has unveiled the programme for the second Cumnock Tryst.
Frankfurter Allgemeine Zeitung
Wut kann eine starke musikalische Kraft sein
Vierzig Jahre arbeitete der italienische Pianist Maurizio Pollini an seiner Aufnahme der zweiundreißig Klaviersonaten von Ludwig van Beethoven. Für ihn war es ein Weg zu Schönheit und Freiheit. 
Der Tagesspiegel
Mozarteums-Chef soll Jürgen Flimm ablösen
Am Mittwochmittag will Michael Müller über die Intendanz der Staatsoper informieren. Jürgen Flimm soll offenbar früher abgelöst werden als vorgesehen – von Matthias Schulz, dem Leiter des Salzburger Mozarteums.
Berliner Zeitung
Matthias Schulz wird neuer Intendant der Berliner Staatsoper
Kultursenator Michael Müller (SPD) hatte für Mittwoch eine Pressekonferenz in der Staatsoper angesetzt. Laut Medienberichten soll dort der neue Intendant vorgestellt werden. Auch einen Namen gibt es bereits: Matthias Schulz.
The Boston Globe
Boston Symphony to provide recordings via Google Play
The Boston Symphony Orchestra has been offering digital recordings for years, but starting this week the 134-year-old orchestra is wading into the rapidly intensifying competition among online music services like never before.
Opera News
Five Leading Orchestras in U.S. and Europe Partner with Google to Sell Exclusive Recordings of Live Performances
Five leading orchestras in the United States and Europe announced today that they have partnered with Google to sell exclusive recordings of some of their live performances via the Google Play digital music storefront, indicating a significant industry shift away from the recording model once embodied by studios, brick-and-mortar retail stores and CD sales.
Tweets
CityofLondonFestival ‏@CoLFestival: Looking forward to being @Southwarkcathed in 2 weeks time with @nycgb @NYJOuk have you booked? http://bit.ly/1IOAd3F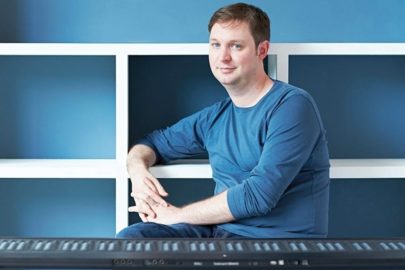 The keyboard reinvented
Photo: The Times