Classical News
In today's news, Marin Alsop gives a conducting masterclass, the 'Ames' Stradivarius is rediscovered and Lorenzo Viotti wins a young conductors award.
The Strad
The rediscovery of the 'Ames' Stradivarius
Last week it was announced that the 1734 'Ames' Stradivarius violin had resurfaced after going missing 35 years ago.
Classical Music Magazine
Mendelssohn and the Messiah feature in Bodleian exhibition
An exhibition at the Bodleian Library features a number of musical artefacts, ranging from the original conducting score of Handel's Messiah to some of Felix Mendelssohn's conducting batons.
Classic FM
Marin Alsop's Classic FM Conducting Masterclass: An introduction to conducting
Marin Alsop is one of the world's best conductors. And starting today, she'll be presenting a series of video masterclasses exclusively for Classic FM on all aspects of conducting, from how to use the baton to that iconic big finish.
Gramophone
Lorenzo Viotti wins the Nestlé and Salzburg Festival Young Conductors Awards
The young Swiss conductor Lorenzo Viotti has won the Nestlé and Salzburg Festival Young Conductors Awards, an award made at the weekend after he conducted the Camerata Salzburg.
The New Yorker
Finally, A Non-Embarrassing Classical-Music Scene in a Blockbuster Movie
When classical-music fans hear that a new Hollywood production has a scene set at the opera or the symphony, they reflexively prepare to cringe.
Die Welt

Im Sitzen kann man keine Opern inszenieren

Der Regisseur Harry Kupfer hatte das Weltniveau, nach dem sich die DDR sehnte. Deswegen durfte er aus- und einreisen. Nur seine Tochter muss als Geisel bleiben. Jetzt wird der Felsenstein-Schüler 80.
Pizzicato

Musicians and Orchestras Present New Streaming Platform
Since streaming seems to have a great future, many actors of classical music go in that direction. Unsatisfied by the current offer, some of them go their own way. Idagio is such a platform that connects musicians and audiences directly.
BR Klassik
Preisträger Lorenzo Viotti in Salzburg
Der renommierte Nestlé and Salzburg Festival Young Conductors Award geht in diesem Jahr an den 25-jährigen Lorenzo Viotti. Der mit 15.000 Euro dotierte Preis wird jährlich an einen jungen Dirigenten bis 35 Jahre verliehen.
France Musique

Le contre-ténor Serge Kakudji victime d'une agression en Sicile
Le chanteur lyrique s'est fait violemment agressé à Palerme en Sicile le 20 juillet dernier, au lendemain de son concert avec l'orchestre du Théâtre Massimo de Palerme.
The New York Times

Mostly Mozart's Big Tent Embraces George Benjamin, Dai Fujikura and More
The big news this week at Mostly Mozart is George Benjamin's opera "Written on Skin," to be performed Tuesday Thursday and Saturday. But there's also plenty of interest elsewhere at the festival.
Twitter
BBC Proms Team @bbcproms: Last night @RoyalAlbertHall turned into a swinging speakeasy @clareteal @clarkepeters @Real_Band & #GuyBarkerBigBand
Classic FM @ClassicFM: Uggie the dog who, starred in the film The Artist, has died. We're playing a music tribute this talented pooch soon!
Sinfini Music @SinfiniMusic: Who knew that Pavarotti was also a passionate cricketer? http://www.sinfinimusic.com/au/features/other-features/the-sound-of-cricket …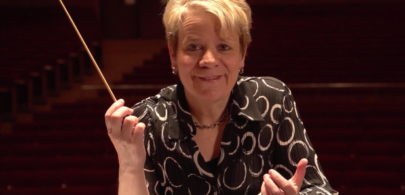 Marin Alsop conducting masterclass
Photo credit: Classic FM