Classical News
In today's news, sleepwalking girl plays piano, work begins on Mexican Arts Complex and the director of Kentucky Opera has been killed in a car crash.
Classic FM

Amazing footage shows a sleepwalking girl playing the piano (and it sounds a lot like Arvo Pärt)
A video of a young girl playing the piano has appeared on YouTube. Nothing unusual in that – but in this video, she's sound asleep.
The Guardian
Five orchestras, £60m and the Proms: a day in the life of Radio 3 boss Alan Davey
He's got one of the biggest jobs in broadcasting, and there were plenty of people who questioned if he was up to the task.
Classical Music Magazine
Atlanta Symphony Orchestra announces first end-of-year surplus
The Atlanta Symphony Orchestra has posted its first end-of-year surplus in more than a decade.
Work begins on Mexican arts complex
Work has begun on a new arts complex in Boca del Rio, in the Mexican state of Veracruz. Foro Boca will provide a home for the Boca del Rio Philharmonic Orchestra (established in 2014).
Daily Mail
Critically-acclaimed director of Kentucky Opera killed in a car crash in Illinois
The director of Kentucky Opera has been killed in a car crash in Illinois.
Der Tagesspiegel

Weißt du, wie das wird?
Der Dirigent Kirill Petrenko, die Aufregung um antisemitische Untertöne und die philharmonische Frage: Am Samstag startet die Wagner-Saison in Bayreuth.
Klassik Akzent

"Das ist ein riesen Ding für mich" – Kirill Petrenko im Interview mit Klarinettist Alexander Bader
Der designierte Nachfolger von Sir Simon Rattle, Kirill Petrenko, gab seinem neuen Arbeitgeber bereits 2012 eines seiner seltenen Interviews. Dabei gewährte der sonst so kamerascheue Dirigent tiefe Einblicke von immer noch bestechender Aktualität.
Pizzicato

Bregenzer 'Turandot' morgen im Fernsehen

An einem länderübergreifenden Opernabend zeigt das SWR Fernsehen, in einem gemeinsamen Projekt mit ORF 2, SRF zwei und 3sat, am 24. Juli um 21 Uhr Puccinis letzte Oper 'Turandot' live von den Bregenzer Festspielen.
BBW Classical world.com

Grammy Winner Diana Krall Performs with Pittsburgh Symphony Orchestra Tonight 
Five time Grammy Award-winning jazz pianist and vocalist Diana Krall joins musical forces with the Pittsburgh Symphony Orchestra for the Thursday Night Icons at Heinz Hall tonight, July 23 at 7:30 p.m.
Opera News
Early in her career, Alex Penda gained notices for her fearless portrayals of bel canto heroines. In recent seasons, her dramatic approach has instigated forays into weightier Germanic repertoire. This summer, she takes on the title role in a new production of Salome at Santa Fe Opera. MARIA MAZZARO speaks with the Bulgarian soprano about learning to love Strauss.
Tweets
Wigmore Hall @wigmore_hall: Hear tenor Matthew Polenzani discuss his early influences and an important meeting that changed his career path: http://bit.ly/1Lwflyx
Sinfini Music @SinfiniMusic: MORNING! Today we're all over #classical #tattoos – this #Beethoven beaut comes from @ciarandsloan. Send us yours!
BBC Radio 3 @BBCRadio3:It's a swan-themed selection of music today with @Freeland coming up next… #EssentialClassics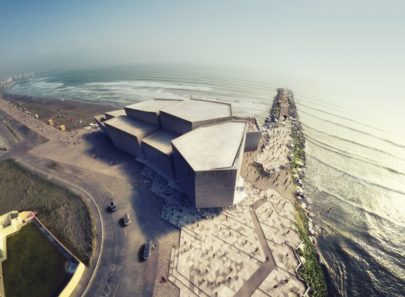 Future Mexican arts complex
Photo: Rojkind Arquitectos