Classical News
In today's news, tensions erupt in Norway's national opera, advice on recovering stolen instruments from The Cabin Net and details of the RTÉ's orchestral cutbacks. Also, Music Education Expo 2016 opens its call for papers, The New York Times' classical music highlights from this week and Ira & Larry Goldberg Coins & Collectibles announces an auction of rare collectibles.
The Guardian
Performers in 'palace revolt' against director of Norway's national opera
Row erupts between Per Boye Hansen, who has been told to leave when his contract expires, and staff who brand him 'moody and self-centred'
Classical Music Magazine
Music Education Expo 2016: call for papers now open
The call for papers has opened for the Music Education Expo 2016, which will this year incorporate the Musical Theatre and Drama Education Show.
The Spectator
The most powerful man in classical music
Ronald Wilford invented the chimera of 'the great conductor' and, as president of Columbia Artists, sold it at unimaginable profit
The Cabin Net
Violin expert instrumental in recovering stolen goods
ATLANTA — Stolen oboes, trumpets and ornate, hand-crafted violins, valued all together at more than $100,000, have been recovered thanks to the keen observations and collaboration of music shop employees in Georgia and North Carolina.
The Irish Times
The devil in the detail of RTÉ's orchestral cutbacks
A heavily redacted report on RTÉ's orchestras gives the lie to the Government's claims about transparency
pizzicato
USA blamieren sich mit Visapanne und bringen Konzertveranstalter in die Bredouille
Es ist kaum zu glauben: Die Vereinigten Staaten, technisch immer auf der Höhe, wenn es darum geht, andere Länder auszuspionieren, haben ein Computerproblem, das das Erstellen von Visa-Dokumenten unter vielen anderen auch für Musiker, die in den USA Konzerte geben sollen, unmöglich macht.
Rare Music Manuscripts And Collectibles To Be Auctioned
Ira & Larry Goldberg Coins & Collectibles has announced the auction of Manuscripts and Autographs from the William K Steiner collection that will take place on June 27.
MUSIK HEUTE
Beethovenfest Bonn: Schwerdtfeger wird Kaufmännischer Geschäftsführer
Der Intendant des Leipziger Bachfests, Dettloff Schwerdtfeger, wird zum 1. Januar 2016 Kaufmännischer Geschäftsführer des Beethovenfests in Bonn.
The New York Times
Classical Music This Week: Kirill Petrenko in Berlin, Gunther Schuller and Roomful of Teeth
Good morning, classical music fans. It's a lovely day for an outdoor concert. How about Roomful of Teeth, the adventurous vocal ensemble, with music from their lovely new album, "Render," in the Financial District tonight? (Bonus: it's free.)
El Mundo
¿Qué ocurre si el omán de un lugar como Mascate, aparentemente saneado en sus cuentas, se empeña en levantar un teatro para el 'bel canto'? Qué va a ocurrir: que el lujo, admirable o censurable, deja fascinado a cualquiera. Mármol hasta en las uñas.
Tweets
Sinfini Music @SinfiniMusic: Baritone @Hvorostovsky cancels summer engagements as he receives treatment for a brain tumour. Get well soon Dmitri!
YourCallOpera @yourcallopera: #ThrowbackThursday to our 2nd bday back in 2013: http://ow.ly/OM6rW Did you attend any of the performances in the gallery? #TBT #opera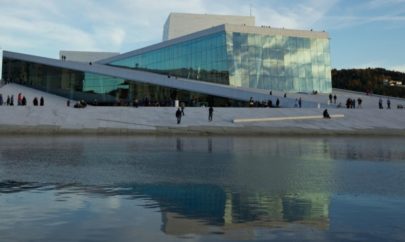 The gleaming home of Norway's national opera in Oslo.
Photograph: Ragnar Singsaas/Getty Images/The Guardian