Classical News
In today's news, middle-aged musicians are missing out, Classic FM's reaction to the One Direction split and BBC Radio 3 launches Christmas Carol Competition.
Telegraph
Middle-aged musicians are missing out
Now is the best time in human history to be middle-aged. Fifty is the new forty, forty is the new thirty, and given that working life now extends to 70 and beyond, referring to 40 as middle-aged no longer feels right. It's less than half-way through our working life.
One Direction split: Classic FM's brilliant 'everything you need to know'
Classic FM had possibly the best response to the One Direction split.
BBC Music Magazine
BBC Radio 3 launches its Christmas Carol Competition
Composing opportunity returns for a second year – now's your chance!
Gramophone
Exclusive Video: Anja Harteros records 'O Patria mia' from Verdi's Aida
Behind-the-scenes as Harteros records with conductor Antonio Pappano and the Orchestra of the Accademia Nazionale di Santa Cecilia in Rome
The Strad
2015 ECHO Klassik awards for violinists David Garrett, Isabelle Faust and Nemanja Radulović
The violinists are among 58 winners honoured by the German record industry
Amati Magazine
Mullovas, mother and son, release albums on same day
The young British-born double bassist, composer and arranger Misha Mullov-Abbado releases his debut album, New Ansonia, this Thursday, 28 August – on the same day as his mother, the violinist Vikoria Mullova, sees the issue of her new CD of Prokofiev's Violin Concerto No.2, Solo Sonata and Sonata for Two Violins (Onyx Classics).
Klassikakzente
ECHO Klassik 2015 – 60 Preisträger in 22 Kategorien
Der Bundesverband der Deutschen Musikindustrie hat die diesjährigen Gewinner des ECHO-Klassik bekannt gegeben. Darunter zahlreiche Künstler der Deutschen Grammophon.
Neue Musikzeitung
Lisa Streich und Matthew Kaner erhalten die Kompositionsaufträge der Roche Young Commissions 2017
Die Künstler Lisa Streich und Matthew Kaner sind von Wolfgang Rihm für die nächsten Kompositionsaufträge der Roche Young Commissions ausgewählt worden: Jeder der beiden Komponisten erhält damit einen Werkauftrag, der innerhalb von zwei Jahren komponiert, 2016 innerhalb der LUCERNE FESTIVAL ACADEMY geprobt und 2017 im Rahmen des Sommer-Festivals zu Uraufführung gebracht werden soll.
Klassik.com
Konrad-Wolf-Preis 2015 geht posthum an Christoph Schlingensief
Die Akademie der Künste Berlin vergibt den Konrad-Wolf-Preis 2015 posthum an den 2010 verstorbenen Christoph Schlingensief und das von ihm gegründete Operndorf in Burkina Faso.
San Francisco Classical Voice
How Your Smartphone Can Bring 'Creative Disruption' Into the Concert Hall
Fourth of a five-part series on classical music, new initiatives in marketing, and novel "audience engagement" tools.
Le Monde
La Russie réclame aux Etats-Unis les restes de Rachmaninov
Rachmaninov ne repose plus en paix. Soixante-douze ans après la mort du célèbre compositeur et pianiste inhumé à New York, en 1943, Moscou réclame les restes de son corps.
Twitter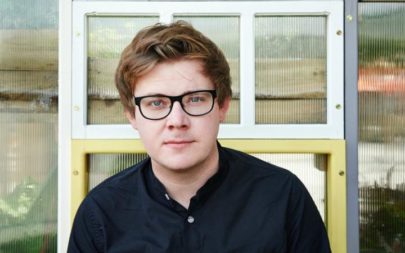 Mark Simpson – composer in residence for the BBC Philharmonic
Photo credit: Kaupo Kikkas