Classical News
In today's news, perspiration-proof concert wear, are young people scared of the Proms or the audience and is it snobbery to wait until the end of a piece to applaud? Also, Oslo Philharmonic reveals plans for new hall.
The Times
No sweat! Now the orchestra can play it cool
Please don't mention it over a Glyndebourne picnic but sometimes, whisper it, orchestra members sweat.
The Telegraph
Are young people scared of the Proms – or the audience?
The classical music establishment has never been more desperate to shake its elitist image.
It's not snobbery to wait until the end of the music before you clap
It isn't difficult: you buy your ticket, you listen in silence to the music, and at the end, should you feel like it, you applaud
Classical Music Magazine
Oslo Philharmonic unveils plans for new hall
The Oslo Philharmonic has announced plans for a new concert hall in Oslo. The new cultural centre will be situated on the waterfront at Filipstad.
Rare Poul Henningsen piano up for auction
A rare PH Andrea Christiansen grand piano will be up for auction at London's Conway Hall next month.
The Strad
Violinist James Clark to step down as leader of Royal Scottish National Orchestra
Clark, who is also co-leader of the Royal Liverpool Philharmonic, will spend more time on chamber pursuits
Sinfini
Call for female composers to be taught in schools
A student-led petition to include female composers on the music A-level syllabus has gained over 1,000 signatures.
BR Klassik
"Die Leute wissen bei uns nie, was sie erwartet"
Das auf zeitgenössiche Musik spezialisierte US-amerikanische JACK Quartet spielt gleichermaßen in Clubs und Bars wie in traditionellen Konzertsälen – Mittwoch Abend etwa bei den Salzburger Festspielen. BR-KLASSIK hat mit dem Bratschisten John Pickford Richards gesprochen.
Klassik Akzente

Große Sinfonien – Sternstunden der Berliner Philharmoniker
Sie gelten als eines der ausdrucksstärksten Orchester weltweit. Jetzt veröffentlicht Deutsche Grammophon Schlüsselaufnahmen der Berliner Philharmoniker: Große Sinfonien in Meistereinspielungen Herbert von Karajans, Claudio Abbados u.a.
Concerti

"Liebe auf den ersten Blick"
François-Xavier Roth will das Kölner Gürzenich-Orchester für alle in der Stadt öffnen.
Classical MPR

Women's contributions to classical music are still underappreciated
I've never been told that I cannot achieve something as a musician because of my gender. I grew up surrounded by female musicians. They were my piano teachers, choir directors, people who taught privately and in churches and schools.
San Francisco Classical Voice

Chailly: From the War Memorial to the Apex of Music
Just as there are claims by zillions to have been at Woodstock (actual attendance: 400,000), San Francisco Opera's famed 1977 Turandot premiere was apparently seen by at least 10 times of the War Memorial's 3,200 capacity.
Twitter
Fran Wilson @CrossEyedPiano: It's not snobbery to wait until the end of the music before you clap | via @Telegraph http://www.telegraph.co.uk/culture/music/classicalmusic/11812445/Its-not-snobbery-to-wait-until-the-end-of-the-music-before-you-clap.html …
Halle Orchestra @‏the_halle: "Leeds Piano Competition names new artistic directors" #NEWS via @GramophoneMag #TheLeeds2015 http://www.gramophone.co.uk/classical-music-news/leeds-piano-competition-names-new-artistic-directors …
BBC Radio 5 live @bbc5live: It's a skill to sing opera, but to do it through brain surgery… http://bbc.in/1K66aqy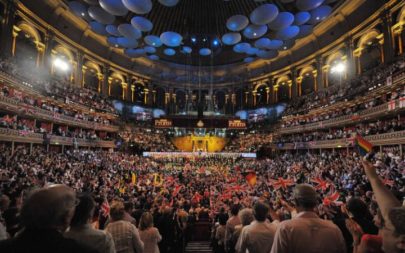 Are young people scared of the Proms?
Photo credit: Ben Stansall/ AFP/ Getty Images/ Telegraph