Classical News
In today's news, Steve Reich launches a new app, the BBC tells of what happened when jazz collided with physics and an interview with Itay Talgam in which he expresses his love for Nutella.
BBC News
ENO artistic director John Berry to step down
John Berry, artistic director of the English National Opera (ENO), is to leave the company after 20 years.
The Telegraph
Itay Talgam: 'Burnout rates for classical musicians do not surprise me'
The maestro and leadership writer Itay Talgam, who has conducted the great orchestras of Europe, reveals his love of Nutella, netsuke collection, and why he left the industry
Classic Music Magazine
Purcell School pupil wins inaugural Cliburn Junior Competition
Purcell School pupil Alim Beisembayev took first place in the inaugural Cliburn International Junior Piano Competition, winning the $10k first prize and $2k scholarship (related to furthering musical advancement).
Steve Reich's Clapping Music app launched
A new smartphone app – available to download free on iTunes from today – challenges users to learn and play an iconic piece of minimalist music while contributing to academic research.
The Strad
Violinist Christian Tetzlaff on studying with Uwe-Martin Haiberg
The German musician's lessons with Haiberg at the Lübeck Musikhochschule were intimidating, but ultimately invaluable, writes Nick Shave
BBC
When jazz collided with physics
A unique combination of man and machine – the first concert performance by a pianist and the Large Hadron Collider.
Süddeutsche Zeitung

Spielvereinigung Stuttgart
Der Südwestrundfunk legt zwei große Sinfonieorchester zusammen. Den Chefdirigenten dürfen die Musiker wählen.
Der große Tenorsänger Nicolai Gedda wird am Samstag 90 Jahre alt. Seine Stimme erfüllt Werke von Mozart und Wagner mit Leben.
Klassik.com

Royal Opera House: Musiker drängen zu Absage an Sponsor BP
Insgesamt 75 Musiker, Komponisten und Musikwissenschaftler haben das Londoner Royal Opera House in einem offenen Brief aufgefordert, seine Sponsoring-Partnerschaft mit dem britischen Ölkonzern BP zu beenden.
The New York Times
The National Youth Orchestra's Moment in the Sun
This is the time of year when many teenagers head off to camp. For some the experience is mainly an escape, a chance to get as far away from the pressures and cares of school as possible, reveling in sports or other outdoor activities. For others the experience is an immersion, a chance to dig even deeper into a favorite interest or activity with like-minded friends and new acquaintances, often in some idyllic spot.
France Musique
Myung-Whun Chung dit au revoir à l'Orchestre philharmonique de Radio France
Myung-Whun Chung, chef d'orchestre et pianiste coréen, quitte la Direction musicale de l'Orchestre philharmonique de Radio France après 15 ans auprès de ses musiciens.
Twitter
Guildhall School @guildhallschool: Congratulations to Kristiina Rokasevich (1st) & Scott MacIsaac (2nd) for their success in the 2015 Brant International Piano Competition!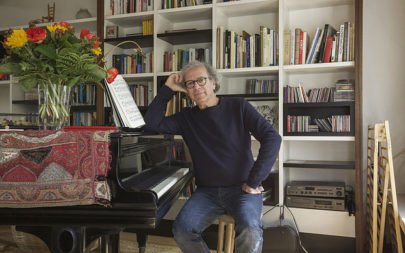 Interview with Itay Talgam
Photo: Willeke Duijvekam/ Telegraph