Classical News
In today's news, Amy Bryant writes for The Telegraph about the sad decline of school choirs, rows at Wigmore Hall concert over disabled seats and a new Syrian opera about the effect the discovery of oil has had on the Middle East.
The Telegraph
Why singing in a school choir is pure joy
Amy Bryant is saddened by reports that school choirs are in decline – they offer fun, camaraderie and crucial lessons for life
Wigmore Hall concert row over disabled seat ends up in Old Bailey
Concert-goer Graham Kern allegedly tells Alison Harvey 'I'm not moving' when she asks him to vacate designated disabled space at famous venue
The Independent
Cities of Salt: A new opera explores how the discovery of oil changed the Middle East
Composed by a Syrian, there's a Syrian singer in the lead role, and it deals with a very topical Middle Eastern theme
Classical Music Magazine
BBC annual report praises Radio 3
The BBC Annual Report and Accounts 2014-15, released earlier today, praised Radio 3 for its 'excellent track record', suggesting that it 'should continue to push the bounds of distinctiveness across all its schedules'.
Arts Professional
Publicly funded arts are "bedrock" of creative industries
A new report highlighting the part subsidised art plays in the UK's "booming" creative industries has been backed by leading figures from the commercial sector.
BR Klassik
Arvo Pärt und Gerhard Richter in Manchester
Der Maler Gerhard Richter und der Komponist Arvo Pärt arbeiten beim "Manchester International Festival 2015" erstmals zusammen. Bis zum 19. Juli werden Kunstwerke und eine Komposition präsentiert, die sich die beiden Künstler gegenseitig gewidmet haben.
Opernnetz.de
Weil in der Ukraine der Krieg tobt, ohne dass die westliche Welt es noch groß zur Kenntnis nimmt, hat Anna Skryleva, Erste Kapellmeisterin am Staatstheater Darmstadt, das Projekt Classic for Peace ins Leben gerufen.
Klassikakzent.de
Königin der Festivals – die Eröffnung der Salzburger Festspiele auf 3Sat
Am 18. Juli ist es wieder soweit: mit einem festlichen Konzert in erstklassiger Besetzung werden die diesjährigen Salzburger Festspiele eröffnet. Und das ist nur der Auftakt zu einem fulminanten Festival-Programm.
France Musique
Ludovic Morlot signe pour deux années supplémentaires à Seattle
L'orchestre symphonique de Seattle a officialisé la reconduction jusqu'en 2019 du contrat de son directeur musical, le chef Ludovic Morlot.
Classicallite
Violinist Kevin Yu's Company, Coregami, Develops 'Gershwin' Shirt for Musicians
For ensemble musicians and beyond, performing in concert attire can be restraining. For violinist Kevin Yu, the confines of formal wear during a show has inspired a new design by the musician and his company Coregami. Called "The Gershwin," the shirt comes after two years in the making.
Tweets
Your Call… @yourcallopera: Leaky Boat Productions (producers of 'Your Call…') has a new logo. Feel the love!
Classical Music  @ClassicalMusic_:.@marinalsop is to conduct the National Symphony Orchestra of Cuba in a historic concert later this year http://bit.ly/1K5nzhf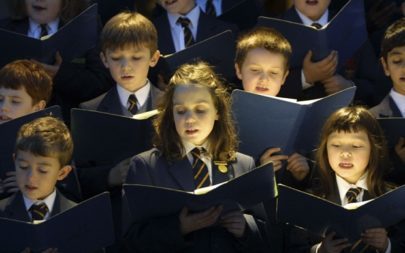 British primary school choir
Photo: Photofusion/REX Shutterstock (2272291a)/ The Telegraph