Classical News
In today's news, the Borodin Quartet continue the excavation of Shostakovich's music, The Guardian explores classical works hated by their own composers and question what would happen if we mixed Brahms and Radiohead. Also, Nicholas McCarthy signs to Warner Classics and The Spectator looks at the most powerful man in classical music.
The Telegraph
The Borodin Quartet: 'We are not here to perform nice music'
As the world's greatest string quartet continue their excavation of Shostakovich's music, John Allison finds out what it means to live in the mind of a tormented genius
The Guardian
'Repugnant', 'uninspired' and 'awful' – works hated by their own composers
From Beethoven to Ravel, and Elgar to Saint-Saëns, 10 of the best-known pieces that their composers disowned despite – or perhaps because of – their popularlity
What do you get if you mix Brahms with Radiohead?
The end of musical civilisation as we know it, says Tom Service. Epic hoax, or compelling and captivating – what do you think of a symphonic project that melds Brahms's First Symphony with Radiohead's OK Computer?
Classical Music Magazine
Nicholas McCarthy signs to Warner Classics
The left-handed British pianist, Nicholas McCarthy, has been signed to Warner Classics and his first solo album for the label will be released in September 2015.
The Spectator
The most powerful man in classical music
Ronald Wilford invented the chimera of 'the great conductor' and, as president of Columbia Artists, sold it at unimaginable profit
artsjournal
Sony (And Other Major Recording Labels) Own A Piece Of Spotify. Is This A Conflict Of Interest That Hurts Artists?
"Having equity in Spotify might be smart, but if the money doesn't trickle down from labels to profit participants, is it legal?
pizzicato
Conductor Sascha Goetzel Resigns As First Guest Conductor Of The Orchestre Symphonique de Bretagne
Austrian conductor Sascha Goetzel resigned with immediate effect as First Guest Conductor of the Orchestre symphonique de Bretagne, a post which he occupied since 2012.
Der Tagesspiegel
Schon zum zweiten Mal bringen die Brandenburgischen Sommerkonzerte Klassik auf den Skandalflughafen BER in Schönefeld: Am 28. Juni um 17 Uhr spielt das Deutsche Symphonie-Orchester
Die Welt
"Wer ist Petrenko?", fragen Engländer und Amis
Die einen schmollen, die anderen fürchten um ihre Posten: Was folgt auf die Wahl von Kirill Petrenko in Berlin? Der unterlegene Christian Thielemann hat jetzt immerhin einen Parkplatz in Bayreuth.
Concerti
Annäherungen und Veränderungen
Die neue Intendantin Nike Wagner verpasst dem Beethovenfest Bonn eine sanfte Frischzellenkur
KlassikAkzente
So klingt der Sommer! Die "Sommernachtsmusik" im ZDF mit Anna Netrebko
Beim Klassik-Open-Air-Event der "ZDF-Sommernachtsmusik" steht Anna Netrebko in diesem Jahr erstmals gemeinsam mit Jonas Kaufmann und Thomas Hampson auf der Bühne am traumhaft schönen Münchner Königsplatz.
Tweets
ClassicsTweets @ClassicsTweets: Interesting Fact 67: Schoenberg had a fear of the number 13. He died on Friday 13th July 1951.
BBC Radio 4 @BBCRadio4: The world's fastest drummer, high octane guitar shredders and The Minute Waltz in 57 secs. Fast and Furioso: http://bbc.in/1QSWvIG 
BBC Music Magazine@MusicMagazine: Right. Our deputy ed – me – is on his lonesome in the BBC Music office today. Do send me an amusing tweet or two to keep me company. Ta.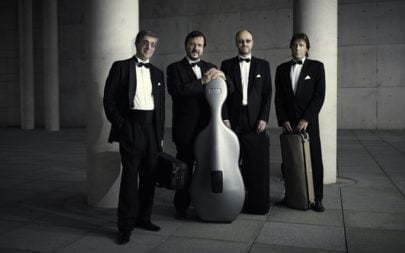 The Borodin Quartet
Photo credit: The Telegraph