Classical News
In today's news, Berlin State opera concert angers Israel, dead woman named as Norwegian pianist Natalia Strelchenko and violinist Gil Shaham gives a Mozart masterclass. Also, Rachmaninov's Piano Concerto No.2 tops Classic FM Hall of Fame poll.
Guardian
Berlin orchestra's planned Tehran concert angers Israel
Israeli-Argentinian conductor Daniel Barenboim in talks to take Berlin State Opera to Iran, but Israel wants Angela Merkel to block performance
BBC 
Dead woman named as concert pianist Natalia Strelchenko
A woman found with fatal head injuries in Manchester has been named by police as Norwegian concert pianist Natalia Strelchenko.
Classic FM
Rachmaninov's Piano Concerto No.2 tops 20-year poll of classical music
Star Wars composer John Williams is named most popular living composer in Ultimate Classic FM Hall of Fame, which combines 20 years' worth of polling data from annual Hall of Fame poll.
Classical Music Magazine
Whitechapel Gallery hosts experimental music season
Whitechapel Gallery is hosting a season of experimental performances, ranging from live contemporary performances to multi-sensory visuals and immersive electronic mixes.
The Strad
Violinist Gil Shaham gives Mozart masterclass
'Can you play that with twice as much bow? OK, now twice as much again!'
Der Tagesspiegel

Vom Gleiten über den Saiten
Er ist die Geige hinter dem berührenden Violinensolo aus "Schindlers Liste": Itzhak Perlman. Wir gratulieren dem Ausnahmegeiger zum 70. Geburtstag.
Die Welt

Der berühmteste Geiger der Welt
Er spielte die Melodie von "Schindlers Liste": Der israelische Geiger Itzhak Perlman feiert seinen 70. Geburtstag. Kein Wunderkind, aber ein früh Vollendeter, ein Meister des vollen Tons.
Opernnetz

"Die hergebrachte Distanz zum Künstler überwinden"
Neun Jahre erlebte die Klassikszene im Rheinland Ilona Schmiel als Intendantin des Beethovenfests Bonn. Im Interview mit Opernnetz spricht sie über Innovationen der ersten Spielzeit und und die Pflicht, junge Leute für die klassische Musik zu begeistern.
Classicalite

How the 'Now' Generation Caused the Death of Sheet Music Retail
The encroaching "paperless society", while stubborn and elusive, has stepped forward to deliver a devastating blow. Frank Music, the last devoted sheet music retail store in New York City, has closed down.
The Globe and Mail

Russell Smith: I don't have to meditate, I have art
A lot of contemporary art is deliberately boring. Endurance is a feature of viewing it. It involves spectacles that unfold over hours, changing minutely (videos on loops, projected to empty galleries; artists sitting still in boxes, etc.). A lot of this sort of thing fails because one is not forced to endure it…
Twitter
The Amati Magazine @AmatiMagazine: Amati goes to…the Gstaad Menuhin Festival http://magazine.amati.com/148-cd-concert-reviews/review-amati-goes-gstaad.html …
BBC Proms Team @bbcproms: Listen to @murraygold's 'Albatross – Reunion' performed by @BBCCO conducted by @jeremyhs1 http://bbc.in/1JH1enc
Classic FM @ClassicFM: Ever wondered how fast a pianist's fingers move in Rach 2? We got @ValLisitsa in for this experiment: http://classfm.co/gWFchC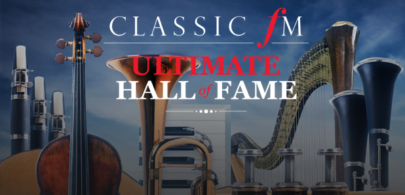 Classic FM Hall of Fame results
Credit: Classic FM