WildKat PR is extremely excited to be working with the Sacconi Quartet, a string quartet who are consistently recognised for communicating with a fresh and imaginative approach. The quartet aims to create truly immersive chamber music experiences that draw the audience into the music in a way never seen or heard before.
The Sacconi Quartet's latest project, HEARTFELT, does just this. Audience members will hold robotic, wired hearts and will be able to feel the heartbeat of one of the players and so follow the same highs and lows as the musicians during the performance of Beethoven's String Quartet in A minor Op, 132. It promises to be a uniquely interactive performance. This information will then be transformed in real time into a lighting display that is exclusive to that performance. The robotics and lighting are all made possible by: Silas Adekunle of Reach Robotics, responsible for the initial robotics concept; robotic and system designers, development and manufacturers, Rusty Squid; and interactive lighting designer, Ziggy Jacobs-Wyburn. It will be premiered at the 2015 Spitalfields Festival before being performed at Lichfield International Arts Festival and the Bristol Proms. The idea came about during the inaugural Bristol Proms in 2013 when the Sacconi Quartet spent two days with leaders in the technology and creative fields exploring how to make chamber music more immersive. With Arts Council funding, the result was HEARTFELT. Moments of darkness and a considered lighting design allow the focus of the performance to be on the music itself, with digital technology providing a way for audiences to engage with the music in a direct, physical way. HEARTFELT moves the concert experience beyond sight and sound, introducing tactility into live performance.
Formed in 2001, the Sacconi Quartet are a firmly established and respected ensemble, passionate about repertoire for string quartet. They are the winners of various awards including the Trondheim International String Quartet Competition and Second Prize at the London International String Quartet Competition, alongside two extra prizes at the same event. The Sacconi are the Quartet in Residence at the Royal College of Music and Associate Artists at the Bristol Old Vic. They are also regulars on the UK and European concert scene and have played at Manchester's Bridgewater Hall and the Musikverein in Vienna, to name but a few. Their 2014/15 season includes residencies at the Lichfield Festival and Salisbury International Arts Festival alongside collaborations with Miloš Karadaglić, Ksenija Sidorova and Vertavo Quartet.
Keep up to date with news about the Sacconi Quartet, HEARTFELT and their other upcoming projects through their website, Twitter and Facebook.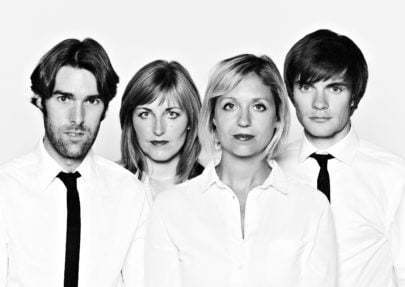 The Sacconi Quartet. Photo: Emilie Bailey