In today's Classical News, Brindley Sherratt gives advice to a younger generation of singers, Birmingham Conservatoire appoints international chair in cello, and YCAT announces two new artists. Czech conductor Jiri Belohlavek has died aged 71, and Paris will open the doors of its monuments for classical music performances this June.
Guardian
Singing? I'm still trying to get the hang of it
Singing was never his first choice, but three decades into an internationally acclaimed career, British bass Brindley Sherratt puts pen to paper to risk a few words of advice for a younger generation.
Music Teacher
Birmingham Conservatoire appoints international chair in cello
Jian Wang has been appointed as Birmingham Conservatoire's international chair in cello. He will visit Birmingham Conservatoire on a regular basic, teaching undergraduate and postgraduate students.
Classical Music Magazine
YCAT announces two new artists
YCAT (Young Classical Artists Trust) has selected pianist Jean-Sélim Abdelmoula and cellist Jamal Aliyev for representation following the Public Final Auditions at Wigmore Hall on 25 May.
Chicago Tribune
Had it launched at any other time, Union JACK might not have attracted quite so much attention. 
LA Weekly
Superstar Pianist Yuja Wang Is Embracing the Darker Side of Classical Music, and It's Thrilling
Yuja Wang brought the requisite star power and overt glamour that nearly filled Disney Hall on Friday night, as the astonishing Chinese pianist reunited with simpatico conductor Gustavo Dudamel and the L.A. Philharmonic and continued her recent obsession with the morbidly engrossing Hungarian composer Béla Bartók.
Le Figaro
Les monuments de Paris ouvrent leurs portes à la musique classique
Le Festival de Paris proposera pour sa première édition, du 9 au 29 juin, cinq concerts dont le premier se déroulera à la Tour Eiffel avec la soprano Patricia Petibon.
Quebec Huffington Post
Gregory Charles lance une école de musique virtuelle
Ça allait de soi, pour un aussi grand amoureux de musique, qui prend tant de plaisir à transmettre ses connaissances : Gregory Charles annonçait mercredi matin la mise sur pied de l'Académie Gregory, une école de musique virtuelle dont le premier tutoriel, Je suis pianiste, enseignera les rudiments du piano, à compter du 1erseptembre prochain.
Frankfurter Allgemeine Zeitung
Der französische Pianist Pierre-Laurent Aimard denkt an die Zukunft der Klaviermusik. Dafür wird er in München mit dem Siemens-Musikpreis ausgezeichnet.
Der Tagesspiegel
Er führte die tschechische Philharmonie zu internationaler Anerkennung. Jiri Belohlavek ist nach schwerer Krankheit im Alter von 71 Jahren gestorben.
neue musikzeitung
Evangelische Kirche sieht Elbphilharmonie als G20-Ort kritisch
Die Evangelische Kirche in Deutschland (EKD) sieht die Elbphilharmonie als Veranstaltungsort für den G20-Gipfel in Hamburg kritisch.
Twitter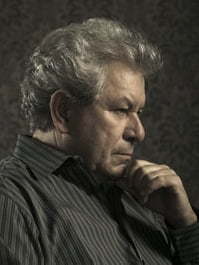 Image: Jiri Belohlavek