Classical News
In today's news, The Times elucidates how Petrenko landed his new post, Prokofiev discusses BBC's Ten Pieces and Scotland's national orchestra announces a new chief executive. Also, composer Mikis Theodorakis looks back on his life, composer Krzysztof Penderecki has received the papal medal 'Per Artem ad Deum' from the Pontifical Council for Culture and Ina Kringelborn dies at the age of 31. The New York Festivals International Radio Program Awards winners for 2015 are announced, with the Grand Awards going to the New York Philharmonic and Grand Piano Passion on how to find the right audiologist.
The Times
How Kirill Petrenko landed the biggest job in classical music
Three years ago Kirill Petrenko confessed in a rare interview that conducting the Berlin Philharmonic for the first time was "like scaling Mount Everest without equipment''.
The Independent
Gabriel Prokofiev on the BBC's Ten Pieces, Nonclassical, and a new Carnival of the Animals
Gabriel Prokofiev is pondering, over a Turkish lunch near his Bethnal Green studio in London, an unexpected development in his career as composer: the BBC has just picked a movement from his Concerto for Turntables and Orchestra for its new Ten Pieces list for schoolchildren aged 11 to 14.
The Telegraph
Kirill Petrenko is the right choice for the Berlin Philharmonic
The Russian conductor carries a flame for the great German tradition, says Michael Henderson
Classic FM
James Horner's final Classic FM interview: turning down Lord of the Rings and the trouble with directors
Six months before his tragic death in a plane crash, the 'Avatar' composer exclusively revealed to Classic FM how he turned down an offer to write the music for The Lord of the Rings.
The Herald Scotland
New chief executive for Scotland's national orchestra
Scotland's national orchestra has announced a new chief executive.
Frankfurter Allgemeine Zeitung
Wo sollen wir Hoffnung hernehmen?

Mikis Theodorakis ist der berühmteste Komponist seines Landes und ein Liebling der Nation. Jetzt blickt der fast Neunzigjährige auf sein Leben zurück – und auf die Gegenwart Griechenlands.
pizzicato
Papal Distinction For Composer Krzysztof Penderecki
Polish composer Krzysztof Penderecki (*1933) has received the papal medal 'Per Artem ad Deum' (Through Art to God) from the Pontifical Council for Culture. A statement speaks of his « constant pursuit of God along the paths delineated with the staves and notes. »
klassik.com

Sopranistin Ina Kringelborn gestorben

Die norwegische Sopranistin Ina Kringelborn ist am vergangenen Sonntag nach kurzer schwerer Krankheit im Alter von 31 Jahren im Universitätsklinikum von Lørenskog gestorben. Kringelborn war Ensemblemitglied des Opernhauses von Oslo und der Komischen Oper Berlin.
All Access
N.Y. Philharmonic, Radiolab, RTÉ Win Grand Awards At New York Festivals International Radio Program Awards

The NEW YORK FESTIVALS International Radio Program Awards winners for 2015 have been announced.
Grand Piano Passion
How to Find the Right Audiologist: Service, Service, Service

Since I was first diagnosed with a hearing loss at age six, I have been a patient of no less than 10 audiology practices over four decades.
Tweets
Telegraph Music @TeleMusicNews: Picture a typical Glastonbury goer. Now tells us their age http://tgr.ph/1BLWcJ6 
Opera North @Opera_North: Musical breakthrough: @BSOrchestra's project provides support for those living w/ #dementia: http://gu.com/p/4av6f/stw  http://youtu.be/Fy8EtYrhuGA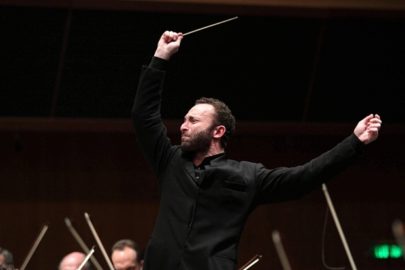 Kirill Petrenko in full flow
Photo credit: Dan Porges / ArenaPAL / Telegraph