Marin Alsop holds the title 'first woman to…' in a (worryingly) large number of areas: first woman to head a full time major American orchestra, the first woman to conduct the Last Night of the Proms in 2013 and first female principle conductor of a UK orchestra (Bournemouth Symphony Orchestra). I say worryingly because there are still so many firsts for women to be had in 2015 as she herself has said.
We all remember when she was announced as the conductor of the Last Night of the BBC Proms in 2013 and we shouted for joy at there FINALLY being a female conductor at one of classical music's most famous evenings. Yet, we also collectively shook our heads in agreement when, in her Last Night speech, she voiced what we were all thinking: 'I find it shocking that in 2013 there are still firsts for women.'
Photo: Grant Leighton
Marin tells how she is extremely lucky to have grown up in a very musical family with both her parents being professional classical musicians. Clearly a very talented young child, she took up the piano and, a little later, the violin when she was 6 or 7 and began studying at the Juilliard Pre College Division around the same time. Her passion for conducting also came at an early age when she saw Leonard Bernstein at a concert and, from that moment, she knew it was the profession for her. She has now held the prestigious position of Music Director of the Baltimore Symphony Orchestra since 2007, a tenure which has been extended twice until 2021. She added to her busy schedule in 2012 by taking up the post of Principal Conductor of the São Paulo Symphony Orchestra in 2012 and became Music Director in July 2013.
So, why do we not see more women conducting or composing when, simultaneously, there is a wonderful amount of talented female soloists? Vasily Petrenko famously said it was because a woman on the podium would be distracting, whilst Marin cites Roger Wright who blames the trajectory of history which has prevented role models breaking through. Well, that is until now. Later on in her Last Night speech, Marin said that 'it is all worthwhile if it inspired young women to realize that they, too, should follow their passion, should aim high and not let any barriers stand in their way.'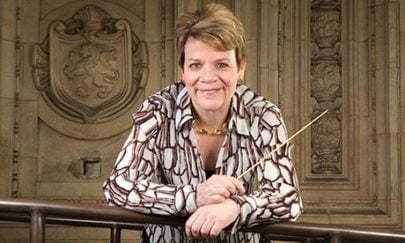 Photo: Richard Saker for the Observer Richard Saker/Observer
With girls throughout the world risking their lives to even go to school (see James McCarthy's work inspired by Malala Yousafazi), those of us in classical music should be inspired by this boldness for change in our industry and do our part for the equality of women all over the world.
Check back here tomorrow for our final blog in the #ClassicalWomen series: our top 10 women in classical music moments.