Guardian
Courtney Love to make her opera debut in New York
Love 'wanted to do something challenging', so she has taken a role in a production at a 'visionary opera-theatre' festival
Telegraph
The pTrumpet is made of plastic, sounds just like a brazen trumpet and costs only £100
Classical Music Magazine
City Music Foundation announces classical artists for 2014
The City Music Foundation has announced the three soloists and three chamber ensembles which it will support through mentoring, professional development and performance opportunities as part of its 2014 classical artists programme.
Classic FM
Are you Rach-man-enough (sorry) to indulge in a season-long celebration of the great Russian's music? The London Philharmonic Orchestra are, in their Rachmaninoff: Inside Out concert series, running from October 2014 until April 2015.
Classical Source
Original manuscript of Dvořák's New World Symphony comes to US for the first time
Five-day display of priceless manuscript is a highlight of week-long events in New York City celebrating the 25th anniversary of the Velvet Revolution
The Strad
Violinists Anne-Sophie Mutter and Leonidas Kavakos to feature in free online broadcasts from Carnegie Hall
A series of four performances will be webcast through a partnership with medici.tv
Violins allowed as carry-on baggage, but violas must be checked into the hold, says Air Canada
The airline has published detailed regulations for the transportation of musical instruments on its website
Gramophone
Podcast: Igor Levit records Bach Partitas
Igor Levit has followed his acclaimed debut recording of Beethoven's late sonatas with an equally impressive survey of Bach's Partitas, available now on Sony Classical. 

Slipped Disc
Star pianist quits competition jury over 'dishonesty and fraud'
There is no finer living interpreter of Debussy and Ravel than the French pianist Pascal Rogé. He is not a man who seeks limelight or trouble, preferring to focus on the infinite impressionistic possibilities of his favourite composers.
Twitter
Classic FM ‏@ClassicFM: Exciting news – next week we begin these incredible auctions & raffles for our new charity, Global's #MakeSomeNoise: http://classfm.co/GAA3ol
YCAT ‏@YCATrust: Travel to 'Small Nations Big Sounds' with @sinfoniacymru, led by YCAT violinist Bartosz Woroch – http://bit.ly/1vieRUj
Jessica Duchen ‏@jessicaduchen: October: sounds from another world. Lev Oborin plays Tchaikovsky… http://bit.ly/1tmFLbj
Telegraph Music ‏@TeleMusicNews: Well of course @Pharrell is in the top happy songs of all time . . . http://bit.ly/1rI1vQO #pharellwilliams #happysongs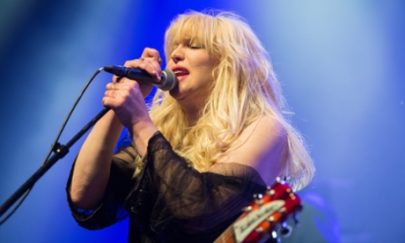 Courtney Love … Putting rock'n'roll behind her. Photograph: Samir Hussein/Redferns via Getty Images