WildKat PR is delighted to say we will be working with Dartington again on its International Summer School & Festival 2017.
After last year's successes, it is an enormous pleasure to welcome back Dartington International Summer School & Festival, who has just launched its 2017 season. Dartington is a place of shimmering beauty, and its world- famous Summer School is for everyone: for professional musicians and music students, for people who love to listen, and for people who want to debate ideas. The 2017 programme engages with music reflecting migration and exile, ancient and new; and complexities of identity, nation and revolution.
Dartington International Summer School has expanded into a fully-fledged, exuberant festival, and gets more action-packed every year. The festival, which will run between 29 July and 26 August 2017, features over 90 public concerts and events. Classical Music Magazine has outlined the highlights for 2017:
Titled Stories in Transit, the first week (29 July – 5 August) will explore migration and exile. Focused on early music, it includes classes for viol players, lutenists, harpsichordists, reeds and recorders; improvisation courses led by Stevie Wishart and Huw Warren; Middle Eastern music and song classes; and a premiere of Dowland's Lachrimae with words by refugee poets. Emma Kirkby and Nicholas Clapton will teach vocalists, Andrew Griffiths will lead Florentine Intermedi, and William Lyons and the City Musick will direct the advanced renaissance wind band.
The second week (5-12 August) will focus on English identity in Baroque music, folk music and creative writing. Repertoire will include Handel's Samson and Purcell's King Arthur, and Eliza and Martin Carthy will lead the folk music strand. Coaches include Carolyn Sampson, Steven Devine and Adrian Butterfield; Joanna MacGregor will run a Baroque piano music course, and Robert Howarth will teach advanced opera and baroque opera students.
The third week (12-19 August) has rich offerings for pianists, with lectures from Alfred Brendel, classes with Pascal Rogé and Florian Mitrea, and a new piano concerto competition with artistic directorJoanna MacGregor. It also offers a Latin music strand, vocal masterclasses led by Paul Nilon, a production of Sweeney Todd and the launch of the advanced conducting course.
Peter Grimes is the focus of the fourth and final week, which will also see Michael Finnissy direct the advanced composition course with the Gildas Quartet. The jazz course will be led by Andy Sheppard, Steve Lodder and Martin France; trumpeter Eric Vloeimans will lead classes, and the Fournier Trio and the Atéa Wind Quintet will offer chamber tuition. Neil Brand will lead a course on film and music, and Paul Morley will teach a course on music writing.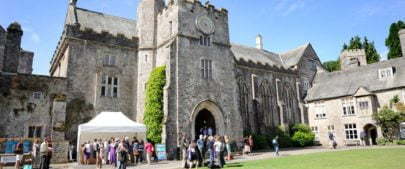 We will be providing press and promotion services to Dartington. For the latest news and updates, keep visiting the WildKat PR Blog, as well as Dartington's website, Facebook and Twitter.