Legendary American composer Steve Reich has permitted the creation of a film accompaniment to his masterpiece Different Trains for the very first time in its 28 year history. For this site-specific performance, presented by Metal, filmmaker and artist Bill Morrison has collaborated with Steve Reich to create a film accompaniment to the Grammy Award-winning work.
Bill Morrison will work with Steve Reich to create a new film commission from archive film stock of train travel during WWII gathered from archives in continental Europe and the US. Metal will present the audio-visual, site-specific performance in an open-air concert at Edge Hill Station in Liverpool, one of the oldest active passenger railway stations in the world.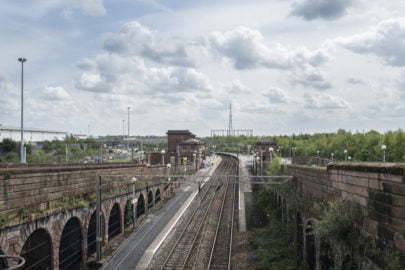 In September 1830 passengers were carried by train between two cities for the first time ever, travelling from Liverpool to Manchester via Edge Hill Station. This performance will encourage audiences to return to this site to reflect upon the extraordinary social, political and economic consequences of that moment, and in particular the role of the railways during World War II.
Steve Reich, Sound Intermedia and the London Contemporary Orchestra (LCO) will collaborate to perform this site-specific presentation. The event will also feature a supporting presentation of Reich's Electric Counterpoint, performed by Mats Bergström.
The performance on the 29th September will take place just days before Steve Reich's 80th birthday, and will take place in the presence of the composer.
Different Trains (1988), for string quartet and tape, was inspired by the journeys Reich made between New York and Los Angeles during World War II and that, had he lived in Europe, he may have been forced to travel in Holocaust trains instead
A high-profile Kickstarter campaign will contribute to the funding of the project.