In today's news: Dmitri Hvorostovsky dies at the age of 55, music in outer space, Bramwell Tovey becomes principal conductor of BBC Orchestra. Also, RTÉ orchestra cuts to see everywhere,  Cristian Măcelaru and Francesco Piemontesi at National Theatre Munich and Lukáš Vondráček at NDR Landesfunkhaus.
The Guardian
Why do we keep sending music to outer space?
Sónar festival is beaming cutting-edge dance music to an exoplanet 12 light years from Earth. But can such experiments ever be more than hubris? 
Classic FM
Want to feel good about the future of music? Take a look at Royal Birmingham Conservatoire
As Royal Birmingham Conservatoire boasts a brand-new building and royal status, we went along to find out what they have to offer. And it's more than just classical music…
BBC Music Magazine
BBC Concert Orchestra announces Bramwell Tovey as new principal conductor
The Vancouver Symphony Orchestra music director steps into a new role.
Music Teacher
YolanDa Brown to become new Youth Music chair
Saxophonist, band leader, composer and broadcaster YolanDa Brown is to become the new chair of Youth Music.
New Scientist
Your music tastes can be changed by using magnets on your brain
Can't stand the new Taylor Swift track? A quick jolt to the brain might change your mind.
Irish Times
RTÉ's orchestra cuts will be seen everywhere, from weddings to schools
The devil is in the detail. When RTÉ announced its latest review of orchestral services, the man in charge of the RTÉ orchestras, Aodán Ó Dubhghaill, was quoted on the history those orchestras and the importance of orchestral life in European society.
Limelight Magazine
The Australian Chamber Orchestra plays Buckingham Palace
The Australian Chamber Orchestra wrapped up its European tour with a very special performance at Buckingham Palace on the weekend.
The full Monteverdi: The Coronation of Poppea
The opera may be 375 years old, but with its sex, murder, and lust for power, it feels as contemporary as the latest HBO hit.
Tagesspiegel
Antonella Manacorda dirigiert das DSO Violinseufzer
Hommage an den verstorbenen Dirigenten Jirí Belohlávek: Das DSO spielt Schumann unter der Leitung von Antonello Manacorda.
Süddeutsche Zeitung
Der gefeierte rumänische Newcomer-Dirigent Cristian Măcelaru und der Pianist Francesco Piemontesi begeistern im Münchner Nationaltheater mit einem Ungarn-Abend.
Concerti
Bei Wein, Weib und Gesang vom Leben inspirieren lassen
In der Reihe "Talente entdecken" gastiert Lukáš Vondráček im NDR Landesfunkhaus.
Concerti
Mozarts "Mitridate"-Oper verdrängte andere Fassung von der Bühne. Dabei lohnt sich auch die Opernversion von Porpora.
Le Monde
Match Franz Schubert – Philip Glass au Collège des Bernardins
Avantage à Glass dans la confrontation de ses quatuors à cordes face à ceux de Schubert, programmée jusqu'au 26 novembre, à Paris.
Twitter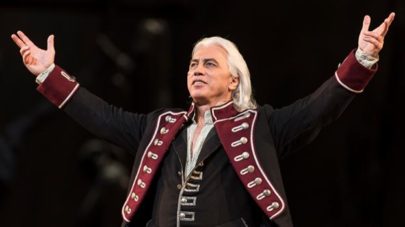 Image: Dmitri Hvorostovsky 
©
BBC Music Magazine