'One Woman Experimental Music Circus' – Dorrit Bauerecker präsentiert virtuelles Wandelkonzert
Auf ihrem neuen Album "ONE WOMAN BAND – Experimental Music Circus", welches am 2. April bei Kaleidos Musikeditionen erschienen ist, überrascht Dorrit Bauerecker mit pianistischer Akrobatik, Klangbändigung am Akkordeon und künstlerischem Multitasking – und ergründet dabei ihre eigenen musikalischen Grenzen.
Am 7. Mai 2021 wird Dorrit Bauerecker, gemeinsam mit Moritz Eggert, ihr Album bei einem eigens fürs Web konzipierten Konzert-Stream vorstellen. Dabei wird sie ihr Publikum durch einen Parcours zeitgenössischer Kompositionen führen und den Zuschauern neue, visuelle Komponenten zu ihrer Musik liefern. So werden die Gäste am Bildschirm dazu eingeladen, hautnah mit dabei zu sein, wenn Bauerecker und Eggert sich verbale Bälle zuspielen und die Frage beantworten, ob sich der ganze musikalische Zirkus eher um Kunst oder Unterhaltung dreht.
Wir freuen uns die außergewöhnliche Künstlerin bei der Pressearbeit für dieses Projekt zu unterstützen!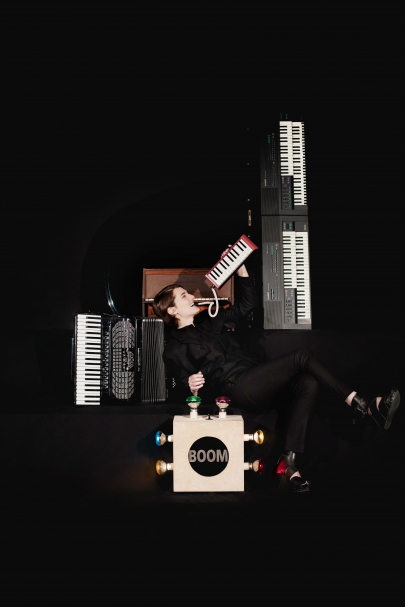 'One Woman and the Experimental Music Circus' – Dorrit Bauerecker presents a virtual concert experience
Pianist and accordionist, Dorrit Bauerecker released her new album "ONE WOMAN BAND – Experimental Music Circus", on 2 April 2021 with Kaleidos Musikeditionen. In the album, she surprises with pianistic acrobatics, remarkable sound mastery of the accordion and artistic multitasking while exploring her own musical boundaries.
To follow the release, Dorrit Bauerecker together with Moritz Eggert, will present her album in a concert stream on 7 May 2021, in a performance specifically designed for the web. She will take her audience through a journey of contemporary compositions and provide the viewers with new, visual components that compliment her music. Thus, her virtual guests will be invited to get up close and personal as Bauerecker and Eggert engage in verbal exchanges, answering the question of whether this whole musical circus revolves more around art or entertainment.
We are delighted to support this extraordinary artist with press work for the project!