Guardian
Emma Thompson takes on role in Sweeney Todd musical in West End
Actor to play piemaker Mrs Lovett in Stephen Sondheim's work after Broadway run and after 25 years away from London stage
Classical Music Magazine
Making Music report: More playing, but progression is limited and class remains an issue
The playing of instruments among children has increased by 35% since 1999, a new study has found, although issues of access, progression and class remain apparent in the music education sector.
Classic FM
Oppan Lang Lang style! Pianist to perform with PSY
Chinese pianist Lang Lang is to join forces with Korean pop sensation PSY at this year's Asian Games, Incheon 2014.
Classic FM
Singer dismissed from festival after 'impersonating Hitler in front of German choir'
David Barclay has been excluded from the Three Choirs Festival in Worcester after reportedly making a joke about the Holocaust and impersonating Adolf Hitler during a rehearsal with the Chemnitz Opera.
The Strad
Cellist Yo-Yo Ma receives Amsterdam's Concertgebouw Prize
The artist was honoured for his longstanding contribution to the venue
The Argus
Super soprano stops the show to tackle thief
A SUPER soprano snatched back charitable donations from a thief midway through her classical recital.
Die Welt
Auf, auf zum lustigen Intendantenjagen
Wiens Bühnen kommen nicht zur Ruhe. Nach dem Abgang von Franz Welser-Möst als Generalmusikdirektor der Staatsoper kündigte jetzt Dirigent Bertrand de Billy die "Lohengrin"-Premiere. Wegen einer Minute.

Klassik.com
Preisträger des Brahms-Wettbewerbs 2014
500 junge Musiker aus 51 Nationen traten an
Crescendo
Interview mit Michael Andreas Häringer
"Ich komponiere lieber große Orchesterstücke."
The New York Times
Tibor Rudas, Classical Music Impresario, Dies at 94
Tibor Rudas, an irrepressible impresario who took classical music from concert halls to casinos and from there to baseball stadiums and the Eiffel Tower, helping to propel the Three Tenors to global glory, died on Sept. 8 at his home in Santa Monica. Calif.
Classicalite
American Composers Orchestra Honors Andy Akiho with $15,000 Grand Prize from the Underwood Emerging Composer Commission
The American Composers Orchestra (ACO) has named their 2014 Underwood Commission award to Andy Akiho. In addition to the accolade, the American-born composer will also be awarded a $15,000 prize for a future work to be premiered by the ACO.
NPR music
Watch A Sweet Little Butterfly Nearly Crush A Woman's Hopes And Dreams
As Ota played for the judges, a butterfly first landed in her hair and then settled on her left eyebrow as she continued to perform.
Twitter
IntArtsManager ‏@IntArtsManager: Beautiful Vivienne Westwood dress is up for grabs, proceeds supporting the brilliant @StreetwiseOpera. Get bidding! http://www.internationalartsmanager.com/2014/09/17/vivienne-westwood-dress/ …
London Philharmonic @LPOrchestra: Our 2014/15 London season starts in one week! Watch Vladimir Jurowski introduce the season in our new video http://bit.ly/1uFvkTm 
Boosey & Hawkes @Boosey_London: 'My Father, The Iron Curtain and Me' – brilliant documentary about A. Panufnik to win here: http://bit.ly/Panufnik100 
Sinfini Music @SinfiniMusic: #Callas' voice may have lacked the creamy quality of other sops, but 'always expressed truth' http://bit.ly/1uGDcUE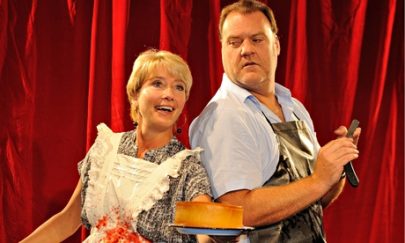 Emma Thompson and Bryn Terfel. Photo: John Snelling/Getty Images