Classical News
Guardian
Venezuela's El Sistema music scheme is 'model of tyranny', UK academic says
Supporters rush to defend 'beacon of social justice' as study shows project fails to reach disadvantaged youth

Independent
ENO blames Arts Council cuts after production of Orfeo is cancelled
The English National Opera has been forced to cancel a forthcoming production "for the first time in recent memory" as a direct result of severe cuts to its funding earlier this year.
Classical Music Magazine
Dickon Stainer appointed to lead Universal's classical activities
Dickon Stainer has been appointed president and chief executive of global classics at Universal Music Group, with overall responsibility for all of UMG's classical output including Deutsche Grammophon, Decca, and Sinfini Music.
The Strad
Six winning 2014 Young Concert Artists announced, including four string players
The New York organisation will promote the winning musicians with concerts and management
Sinfini Music
The celebrated violinist Kyung Wha Chung has announced her London comeback in December after an absence of nearly 20 years.
Die Welt
Marek Janowski dirigiert Frank Castorfs "Ring"
Er wollte nie wieder etwas mit der Bühne zu tun haben. Doch Bayreuths mythischer Orchesterabgrund hat ihn schwach gemacht.
Wenn ein Muslim am Broadway austickt
Eine New Yorker Dinnerparty wird zur griechischen Tragödie: Für sein Vier-Personen-Stück "Disgraced" erhielt Ayad Akhtar im vergangenen Jahr den Pulitzerpreis.
Klassik.com
Debatte um Stuttgarter Konzerthaus nimmt Fahrt auf
CDU-Fraktion regt Initiative zum Bau eines Hauses mit 4.000 bis 5.000 Plätzen an
Evelyn Herlitzius erhält Faust-Theaterpreis als beste Sängerin
Die Sopranistin Evelyn Herlitzius hat den Theaterpreis "Der Faust" als beste Sängerdarstellerin erhalten.
Classicalite
EXCLUSIVE: Director Gerard McBurney on "A Pierre Dream," the Chicago Symphony Orchestra's Multimedia Portrait of Pierre Boulez
The Chicago Symphony Orchestra will celebrate the life and work of Pierre Boulez, the esteemed composer and conductor who will turn 90 in March, with a brand-new Beyond the Score production of "A Pierre Dream: A Portrait of Pierre Boulez," on November 14 and 16 at Symphony Center.
I Care If You Listen
How To Take Charge Of Your Finances As A Musician (Part I)
Kudos for choosing to make a life from your passion!
Twitter
Classic FM ‏@ClassicFM: Superstar tenor @AlfieBoe shares some advice for singers: http://classfm.co/w1jQ6n
EnglishNationalOpera ‏@E_N_O: ICYMI earlier this week, ENO Director-in-Residence Peter Sellars talks about his spiritual side: http://ow.ly/E6ojC  #ENOGospel
Intermusica ‏@IntermusicaLtd: "New works, new instruments": @colincurrieperc tells the story of his #MetalWoodSkin festival in the @GdnClassical http://ow.ly/E9EwH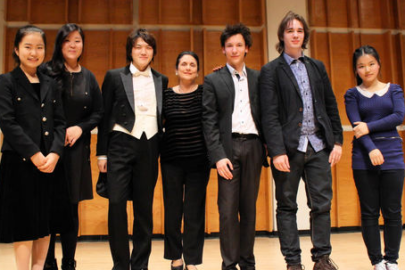 Six winning 2014 Young Concert Artists announced. Photo: Brian D. Bumby