Ensemble Resonanz Releases 'Tenebre' From New Album
Ensemble Resonanz and composer Bryce Dessner, who are releasing their new album, 'Tenebre' with resonanzraum records on October 11, 2019 have released the album's title track, 'Tenebre'.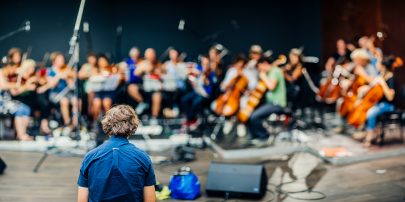 The 15-minute orchestral work, which is one of four pieces on the album, features the vocals of the exceptionally talented Moses Sumney, and offers listeners a deeply spiritual and ethereal experience. You can listen to "Tenebre" here.
And to find out more about Dessner's work as a composer and his collaboration and recording session with the fantastic Ensemble Resonanz, watch their new video below!
Speaking of the collaboration, Dessner said: "When I first heard Ensemble Resonanz perform my music, it felt right to make a recording with them. To be honest, the energy and precision of the group was somewhat shocking. It's like there's a fierceness to the sound, while retaining its depth".
The new album features previous compositions by Dessner reworked specifically for the ensemble: "Tenebre" and "Aheym" were originally composed for the Kronos Quartet for Dessner's album "Aheym"; "Skrik" was co-commissioned by Steve Reich and Carnegie Hall in 2017; and "Lachrimae" previously featured on Dessner's album "St. Carolyn by the Sea".