In today's news: Dan McCarroll leaves Warner Bros Records, Cincinnatti Symphony Orchestra introduce new director, Eckart Preu, and chaos at National Symphony Orchestra of Argentina. Festival "Klangwerkstatt" no to take place this year, Elisabeth Gutjahr Mozarteum's new head, and Erwin Schrott receives badge of honour in Austria.
The Strad
Hilary Hahn calls on fans for upcoming Deutsche Grammophon album artwork
Hilary Hahn has long encouraged her legion of devotees to create fan art, sharing it on a dedicated page on her website and on social media. She has gone one step further with her upcoming album for Deutsche Grammophon, appealing to fans to create artwork for the sleeve.
Pizzicato
Total chaos at the National Symphony Orchestra of Argentina
The musicians of the Argentinian National Symphony Orchestra have not been paid their wages for months, some since last year, the Argentinian newspaper El Pais says.
Music Business Worldwide
Warner Bros President Dan McCarroll exits label after three years
MBW can reveal that Dan McCarroll, President of Warner Bros Records in California, is leaving the label.
Musical Chairs
Cincinnati Chamber Orchestra to introduce new director during Summermusik festival
The Cincinnati Chamber Orchestra's summer concert series, Summermusik, will help the group introduce and celebrate its new director, Eckart Preu.
Limelight
2017 Helpmann Awards announced
Barrie Kosky's Saul and Leah Purcell's The Drover's Wife win big at this year's awards for live performance in Australia.
NMZ
DOV: Festival für Neue Musik braucht langfristige Förderung
Das traditionsreiche und hoch angesehene Festival Klangwerkstatt Berlin kann zum ersten Mal seit 28 Jahren nicht stattfinden, weil Anträge auf Projektförderung abgelehnt wurden.
Pizzicato
Rektorat im Mozarteum wieder besetzt
Nach 15 Monaten und einer von vielen Rückschlägen begleiteten Suche nach einem Nachfolger für den nach einem Sexskandal ausgeschiedenen Siegfried Mauser, hat der Universitätsrat des Salzburger Mozarteums im Eiltempo aus dem Dreiervorschlag des Senates einstimmig die Deutsche Elisabeth Gutjahr zur Rektorin gewählt.
Klassik.com
Bariton Erwin Schrott in Österreich mit Goldenem Ehrenzeichen ausgezeichnet
Der Sänger Erwin Schrott hat gestern das Goldene Ehrenzeichen für Verdienste um die Republik Österreich erhalten.
Twitter
BayreutherFestpiele @WagnerFestival
Heute eröffnen die #bayreutherfestspiele 2017 mit Richard Wagners "Die Meistersinger von Nürnberg"! #BFmeistersinger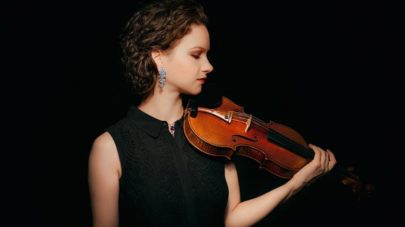 © Michael Patrick O'Leary
Merken
Merken
Merken