Coronavirus: Arts Council England launches £160m emergency package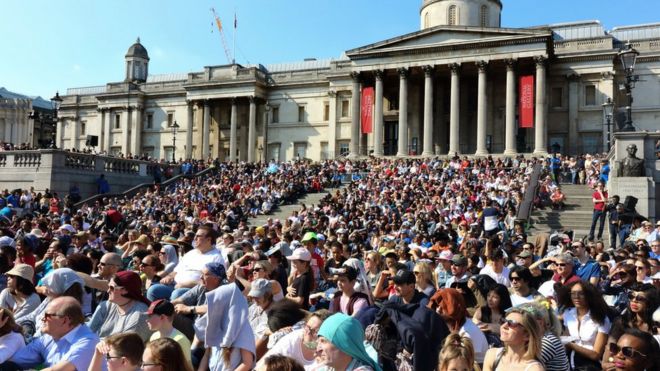 Theatres, galleries, museums and artists in England who have been hit by the impact of coronavirus will have access to a £160m emergency fund.
Arts Council England has announced the cash injection to help artists, venues and freelancers in the cultural sector.
It comes after venues like theatres and galleries were ordered to shut.Meanwhile, Netflix has added a further boost the artistic community by donating £1m to an industry-backed film and TV emergency relief fund.
Most film and TV productions have been put on hold in recent weeks.
---
Eventim warnt vor Insolvenzwelle – Spätere Ticketerstattung gefordert
Durch die Corona-Krise hagelt es weltweit im Minutentakt Absagen. Konzerte, Shows, Tourneen – alles wird verschoben. Wollten alle auf einmal und sofort ihr Ticketgeld zurück, könnte eine ganze Branche abstürzen, warnt einer der großen Player in dem Geschäft.
Kleine und mittelgroße Veranstalter von Konzerten und Kulturevents sind nach Worten von Eventim-Chef Klaus-Peter Schulenberg aufgrund der Corona-Krise in ihrer Existenz bedroht. Sollte es eine bislang geplante aufschiebende Regelung für die Ticketerstattung nicht geben, dann werde die Kulturlandschaft in Deutschland umfassend und dauerhaft Schaden nehmen. «Dann gehen mehr als die Hälfte der deutschen Veranstalter in den Konkurs», warnte Schulenberg, der Europas führendes Ticket- und Live-Entertainment- Unternehmen leitet, der Deutschen Presse-Agentur. Allein bei Eventim seien inzwischen 55 000 Veranstaltungen verschoben worden.
Eventim warns of wave of insolvencies – later ticket refunds demanded
Due to the Corona crisis, there is a hail of cancellations worldwide every minute. Concerts, shows, tours – everything is postponed. If everyone wanted their ticket money back all at once and immediately, an entire industry could crash, warns one of the big players in the business.
According to Eventim boss Klaus-Peter Schulenberg, small and medium-sized organisers of concerts and cultural events are threatened in their existence due to the Corona crisis. If there is no previously planned suspensive regulation for ticket reimbursement, then the cultural landscape in Germany will suffer extensive and lasting damage. "In that case, more than half of the German event organisers will go bankrupt", warned Schulenberg, who manages Europe's leading ticket and live entertainment company, to the German Press Agency. At Eventim alone, 55,000 events have now been postponed.
---
Coronavirus : artistes et salariés de la culture lancent un appel au gouvernement

Le plan d'aide du secteur culturel annoncé par le ministre Franck Riester n'a pas permis de calmer les inquiétudes des acteurs du milieu. A l'image de bon nombre de secteurs économiques touchés de plein fouet par l'épidémie de coronavirus, artistes, employeurs et salariés de la culture, public comme privé, lancent un appel au gouvernement pour que des mesures de sauvegarde des emplois et des trésoreries soient rapidement appliquées. Le 18 mars , Franck Riester annonçait un plan d'aide d'urgence de 22 millions d'euros pour la culture, dont 10 millions pour la musique. Cette enveloppe de secours est abondée et coordonnée par le Centre national de la musique, auquel se sont associés la Sacem (gestion des droits d'auteur), et les deux sociétés de gestion des droits des interprètes l'Adami et la Spedidam à hauteur de 500 000 euros chacun.
Coronavirus: artists and cultural workers appeal to the government
The assistance plan for the cultural sector announced by Minister Franck Riester has not been able to allay the concerns of those involved in the sector. Like many economic sectors hit hard by the coronavirus epidemic, artists, employers and employees in the cultural sector, both public and private, are calling on the government to quickly implement measures to safeguard jobs and cash flow. On 18 March, Franck Riester announced an emergency aid plan of 22 million euros for culture, including 10 million for music. This emergency aid package is matched and coordinated by the Centre national de la musique, in which Sacem (copyright management) and the two performers' rights management companies Adami and Spedidam have each contributed 500,000 euros.