THE BIG CHANGE – Google Universal Analytics to Google Analytics 4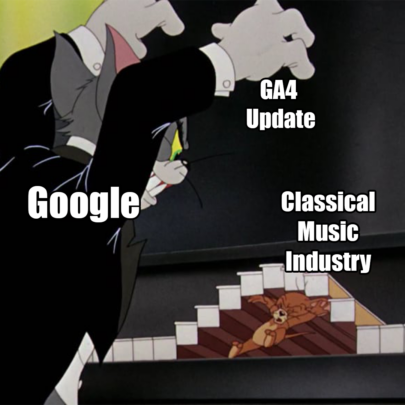 Not technical? Scroll down for a TL;DR!
There is a big change coming this year with how analytics on websites work and how people track and see people's behaviour. Google has announced that its most commonly used analytics tool, Universal Analytics, will stop delivering information on 1st July 2023, which could see a drop off in data if you haven't updated your digital infrastructure by this time. And this requires setting up Google Analytics 4 from scratch. Yikes!
WildKat has done all of the hard work, so that you don't have to. We know how to mitigate this loss and future-proof your analytics efforts. What does this mean for classical music? Well, you will still be able to see which pages people are viewing, who is buying tickets and which ones, how long people are staying on your website, which medium they are coming from and where they are based. If you don't make the transition, all of this tracking will be lost.
In this blog post, we will explore the differences between the two versions of Google Analytics and the effects it will have on the classical music industry.
What are Google Analytics, Universal Analytics and GA4?
Google Analytics has been an essential tool for website owners and marketers to track website traffic, analyse user behaviour, and measure the effectiveness of their online campaigns. Most people would use Universal Analytics (UA). However, in October 2020, Google released the next generation of Google Analytics, called Google Analytics 4 (GA4), and then announced that Universal Analytics (UA) will stop working on 1st July 2023.
GA4 provides an updated and more comprehensive approach to analytics, and website owners are encouraged to update from Universal Analytics (UA) to Google Analytics 4 (GA4) as soon as possible.
The differences
GA4 is not just an update to UA; it's an entirely new analytics platform that is built to accommodate the changing ways in which users interact with websites and apps.
Here are some of the differences between GA4 and UA:
Better Data Collection: GA4 uses an event-driven data model that allows for more flexibility in data collection. You can track more events and parameters, such as video engagement, button clicks, and scroll depth. This approach provides more insights into user behaviour and helps to build a more accurate user journey.
Improved Cross-Device Tracking: UA relied on cookies to track user behaviour across devices, which is becoming increasingly unreliable due to privacy concerns and browser restrictions. GA4 uses a combination of machine learning and anonymous identifiers to track user behaviour across devices more accurately.
AI-Driven Insights: GA4 has integrated machine learning capabilities that provide more advanced insights into user behaviour. You can identify high-value customers, predict user behaviour, and even get automated recommendations to improve your website's performance.
Privacy-Centric: With GDPR and CCPA regulations in effect, privacy is a top priority for website owners. GA4 has been designed with privacy in mind, with features such as data minimization, user deletion, and IP anonymization. These features ensure that you can comply with privacy regulations while still getting the data you need.
Forward Compatibility: GA4 is the future of Google Analytics. As Google continues to roll out new features and updates, it will be focused on GA4. By updating to GA4, you'll ensure that you're keeping up with the latest developments and staying ahead of the competition.
How Can I Make the Transition?
As mentioned, you need to set-up GA4 from scratch. It's not a straightforward process, and it's not just clicking update on your Universal Analytics property. With WildKat's specialist digital arm, we can help with migrating you to GA4 with the least loss of data moving on from July 2023. We will create the GA4 property for you, install the tracking code on your website with specific events to track that are important to you, as well as initially set up the essential new reports that you need to continue monitoring the effectiveness of your website and campaigns.
TL;DR: Google website tracking is changing, with UA being made redundant. This can affect your process for customer purchases, such as ticket sales.
Drop us an email or give us a call to speak about the big change and how WildKat can help you.