The haunting last words of unarmed black men killed by police, powerfully set to music
As the Black Lives Matter movement continues to drive change around the world, music provides a powerful way to express grief and anger.
The haunting final words of the unarmed black men who were killed by police in recent years have been turned into a powerful choral piece.
Atlanta-based composer Joel Thompson wrote a multi-movement choral work in memory of seven African-American men killed by authority figures in 2014, and its significance is being felt today as much as it always has been.
Titled Seven Last Words of the Unarmed, the poignant piece was written by Thompson to help him come to terms with the heartbreaking final words of the victims the music is dedicated to – none of whom were carrying weapons at the time of their deaths.
Describing his approach, the composer told CNN: "After Michael Brown and Eric Garner were killed in 2014, I wrote it as a way to process my feelings. No piece I've ever written since will be as vulnerable, because I didn't expect anyone to see it."
---
Opernhaus von Barcelona öffnet mit Konzert für Pflanzen
Im Gran Teatre del Liceu erklingt wieder Musik – allerdings erstmal nur für ein stummes Publikum. Vier Musiker spielten Giacomo Puccinis "Crisantemi". Der Applaus fiel verhalten us.
Das erste Konzert im Opernhaus von Barcelona nach dem Ende des Coronavirus-Notstands hat vor einem völlig lautlosen Publikum stattgefunden. 2292 Pflanzen verliehen dem Parkett und den Rängen im Gran Teatre del Liceu die Atmosphäre eines Dschungels, während vier Musiker ihnen nach einer tiefen Verbeugung Variationen von Giacomo Puccinis "Crisantemi" darboten. Applaus gab es am Montagabend nicht, aber die Pflanzen leuchteten in ihrem schönsten Grün.
Mit der ungewöhnlichen Aktion wollte der Konzeptkünstler Eugenio Ampudia für einen behutsameren Umgang der Menschen mit der Natur und ihren Pflanzen werben, berichtete das spanische Fernsehen. Die Pflanzen sollen anschließend – jede mit einer Bescheinigung des Künstlers – Mitarbeitern des Gesundheitswesens als Dank für ihre aufopfernde Arbeit während des Höhepunkts der Coronavirus-Pandemie geschenkt werden, teilte das Opernhaus mit.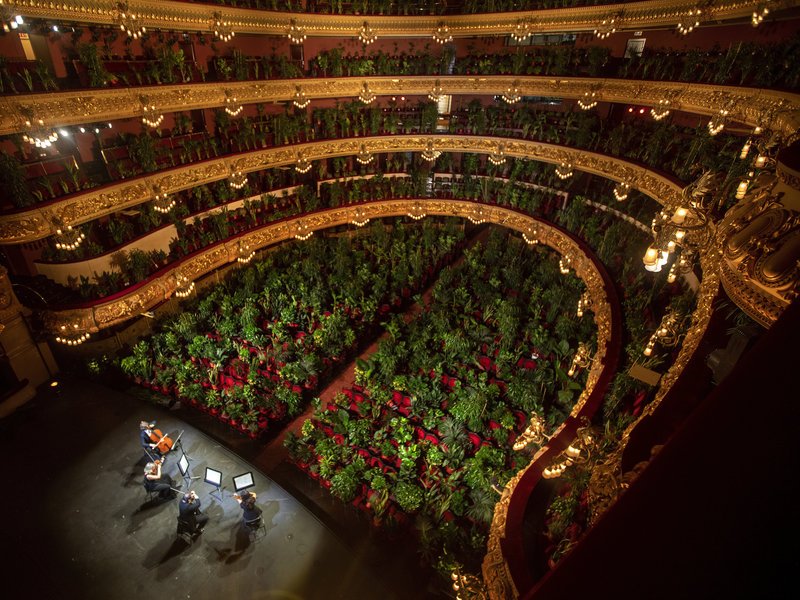 Barcelona Opera House opens with a concert for plants
Music is playing again in the Gran Teatre del Liceu – but only for a silent audience. Four musicians played Giacomo Puccini's "Crisantemi". The applause was subdued.
The first concert at the Barcelona Opera House after the Coronavirus emergency ended was in front of a completely silent audience. 2292 plants gave the parquet and the ranks in the Gran Teatre del Liceu the atmosphere of a jungle, while four musicians offered variations of Giacomo Puccini's "Crisantemi" after a deep bow. There was no applause on Monday evening, but the plants glowed in their most beautiful green.
With the unusual action, the conceptual artist Eugenio Ampudia wanted to promote a more careful treatment of people with nature and their plants, the Spanish television reported. The plants are then to be given – each with a certificate from the artist – to health care workers as a thank you for their sacrificing work during the height of the coronavirus pandemic, the opera house said.
---
Yann Beuron met un terme à sa carrière lyrique
C'est une nouvelle à la fois triste (pour nous) et joyeuse (pour lui). Yann Beuron tire sa révérence. A 52 ans, le ténor a décidé de mettre un terme à sa carrière lyrique. Via un message publié sur Facebook, il explique avoir senti que c'était le bon moment pour lui. "J'ai décidé de mettre un terme à mon métier de chanteur lyrique (sans renoncer bien sûr à mon activité d'intervenant dans le cadre des Masterclasses, ce que j'adore partager) et de profiter de la vie différemment. A presque 52 ans, je sens que c'est le moment pour moi de passer la main" écrit-il. il explique son "grand privilège" d'avoir interprété et servi la musique à travers le monde. La musique qu'il considère comme un "joyau". "Chérissez-là ainsi que nos artistes" conclut-il. Ténor de grande classe, Yann Beuron laisse derrière lui une carrière très vaste, du baroque à la création contemporaine, notamment sa collaboration avec Philippe Boesmans, en passant par les mélodies françaises.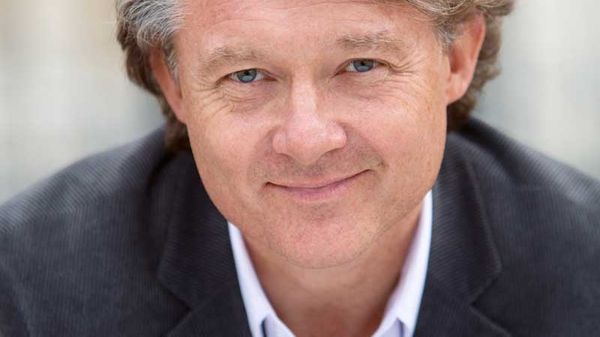 Yann Beuron ends his opera career
This is both sad (for us) and joyful (for him) news. Yann Beuron takes his leave. At the age of 52, the tenor has decided to end his opera career. Via a message published on Facebook, he explains that he felt it was the right time for him. "I've decided to end my career as an opera singer (without of course giving up my activity as a lecturer in Masterclasses, which I love to share) and to enjoy life differently. At almost 52 years old, I feel it is time for me to pass on the baton" he writes. He explains his "great privilege" to have performed and served music throughout the world. The music he considers a "jewel". "Cherish it and our artists," he concludes. A tenor of great class, Yann Beuron leaves behind him a vast career, from the baroque to contemporary creation, including his collaboration with Philippe Boesmans, and French melodies.
---
Kennedy Center cancels most of schedule through 2020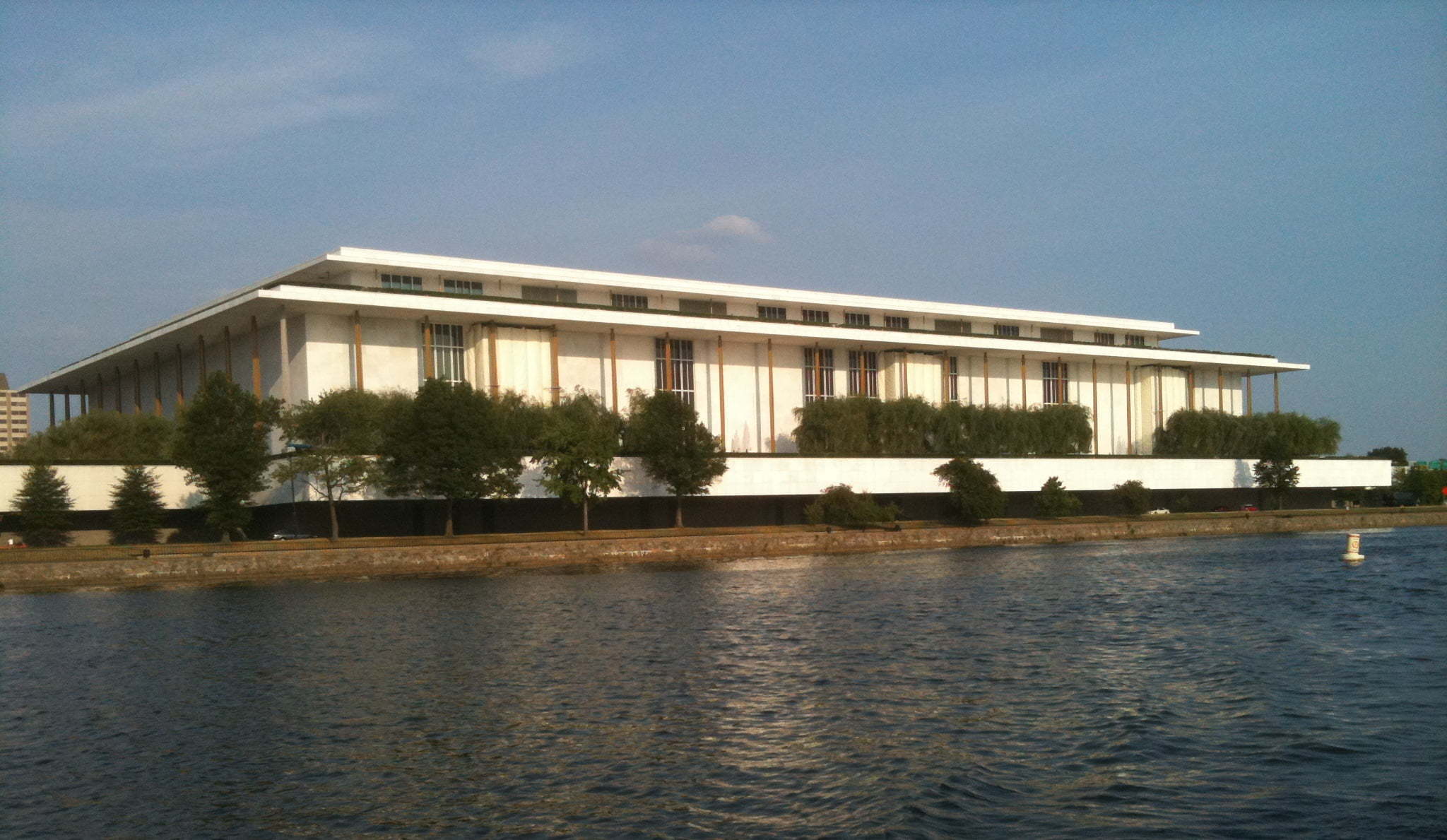 The Kennedy Center has canceled most previously announced performances for the rest of 2020, including its signature Kennedy Center Honors and Mark Twain Prize ceremonies, which have been rescheduled for next spring. The cancellations and postponements will cost the arts center $45.7 million in ticket sales and other revenue, increasing its coronavirus-related losses to more than $90 million.
The national arts center closed March 12 as large gatherings were banned to reduce the spread of the coronavirus. It extended the closure through Aug. 8, canceling or postponing more than 1,000 events.
On Tuesday, the arts center announced that it had canceled the National Symphony Orchestra and Washington National Opera performances that had already been announced and that it would not present other major productions, including theater, dance and musical events, for the rest of 2020.