France Musique has established itself as the premier Francophone media outlet dedicated primarily to classical music, offering seven online radio stations, a phone app, and, since December 2017, a catalogue of more than 1,600 audio and visual concerts available to stream worldwide. Today, it launches its English-language site francemusique.com!
London Director, Olivia Brown, says: "There are a number of reasons why we are so delighted to be working with Radio France's France Musique to promote this project, though first and foremost to share this content-rich platform worldwide. Radio stations have obviously been focusing on digital content to complement their stations more and more in the past few years, and this new platform not only demonstrates how Radio France is providing its current audiences in France with new, accessible, and informative content, but also welcoming an international audience to enjoy its platform too. Our company expansion to Paris in the next year only adds to the excitement of this project and we hope you enjoy exploring and learning!"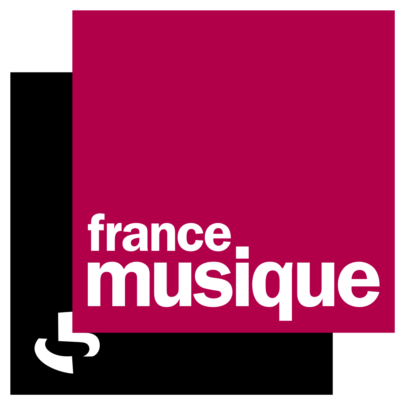 The main purpose of the new site is to share free access to a wide catalogue of music, and invite audiences to 'listen from beyond the borders'. Its seven themed radio stations include 'Easy Classical', 'Classical Extra', 'Jazz', 'Radio France Concerts', Radio France's own record label 'Ocora World Music', 'Contemporary' and 'Film Music'.
Offering both Musical Knowledge and Practical Knowledge, the platform hosts a wide and growing variety of articles on the history of classical and jazz music, the chance to learn more about the context of different works, biographies of composers and musicians, curated playlists, and accessible content so anyone and everyone can learn and discover, whilst also having fun!
The Live Concerts section offers an ever-expanding catalogue of audio-visual concerts, accessible for free. As for the Studio Sessions, these allow access to unique sessions recorded at France Musique with both rising stars and established artists.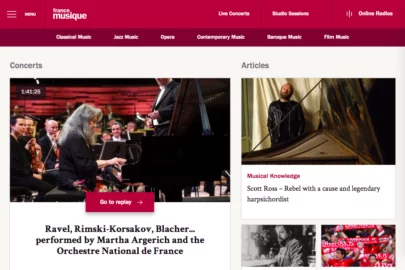 The database includes performances by France's top ensembles, including the National Orchestra of France, the Philharmonic Orchestra of Radio France, and the Choir and Children's Choir of Radio France, putting you right on the front row.