In today's news: new nursery programme aims to transform the lives of children through music, PRS Foundation intends to intensify relationships with Europe ahead of Brexit, Gavin Reid elected as the new chair of the Association of British Orchestras. Also, Grammy and the classical nominations, 2Cellos in the interview and Dmitri Hvorostovsky to be honoured posthumously.
Evening Telegraph
Nursery kids to make a Big Noise in new Dundee music project
Big Noise Douglas, a social change programme that aims to transform the lives of children through music, has launched its brand new nursery programme.
Classical Music
PRS Foundation strengthens relationship with Europe ahead of Brexit
The PRS Foundation has revealed new partnerships intended to strengthen its relationship with promoters and festivals across Europe ahead of Brexit, increasing opportunities for emerging UK artists to break into European markets.
Gavin Reid named as new ABO chair
Gavin Reid, chief executive of the Scottish Chamber Orchestra, has been elected as the new chair of the Association of British Orchestras (ABO). He will succeed Kathryn McDowell, managing director of the London Symphony Orchestra.
The Strad
Classical strings in the 60th Grammy Awards nominations
The Recording Academy unveils nominations for all categories, including nods for Patricia Kopatchinskaja, Augustin Hadelich, Steven Isserlis and Frank Peter Zimmermann.
PR Newswire
Deutsche Grammophon and Tombooks Bring Interactive Music Learning to Revolutionary Education App Tomplay
Deutsche Grammophon GmbH, the world's leading classical music label, and Tombooks, the inventor of interactive sheet music and the Tomplay app, which is revolutionising music education, today announced an agreement allowing the app's users to experience, play and learn along with the greatest musicians of all time through Deutsche Grammophon's incomparable repertoire.
Daily Mail
Shocked woman hilariously disrupts classical music concert by yelping at a loud moment
Concertgoers in California were treated to a quite unusual rendition of Igor Stravinsky's Firebird when a woman in the audience let out a yelp of surprise at the performance's climax.
Los Angeles Times
Grammy spreads the love among classical nominees and sets the stage for a sympathy vote
Who can fathom the inscrutable ways of Grammy when it comes to classical nominations? If there is any pattern in this bunch of nods, it may be the predominance of American composers and organizations in some categories.
Süddeutsche Zeitung
Die Cellisten Stjepan Hauser und Luka Šulić kannten vom Pop kaum mehr als Michael Jackson. Dann wurden sie zu Rockstars. Die Geschichte einer ungewöhnlichen Karriere.
neue musikzeitung
Mensch – Netz – Musik: Musikschule mittendrin. Der VdM-Kongress 2017 in Stuttgart
Unter dem Motto "Mensch – Netz – Musik: Musikschule mittendrin" veranstaltete der Verband deutscher Musikschulen auch 2017 seinen alle zwei Jahre stattfindenden Musikschulkongress. 
concerti
Vom 5. bis zum 11. Dezember findet in München das Musikfest "Im Freien" statt, das sich dem Gedenken an den Komponisten Wilhelm Killmayer widmet.
France musique
Dmitri Hvorostovsky nommé à titre posthume aux Grammy Awards
La liste des artistes nommés pour la 60e édition des Grammy Awards, qui se tiendra le 28 janvier à New York, vient d'être dévoilée. Parmi eux, figure le baryton Dmitri Hvorostovsky, disparu le 22 novembre 2017.
Platea Magazin
Trifonov, Hannigan, Gergiev y Noseda, entre los nominados a los Grammy en las categorías de música clásica
La Recording Academy ha dado a conocer sus nominaciones para la 60 edición de los Premios Grammy, cuya entrega está prevista el próximo 28 de enero de 2018.
Twitter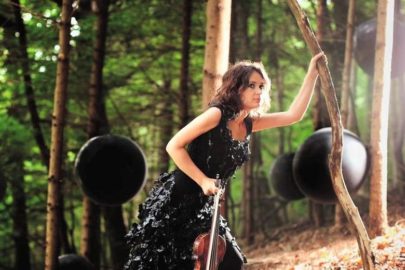 Image: Patricia Kopatchinskaja photographed for the Death & The Maiden album on Alpha Classics © The Strad