In today's news: Oboist Nicholas Daniel performs Britten in the middle of a boating lake, the winners of the 2017 St Magnus Composers Competition are announced, composition for the victims of the Grenfell Tower tragedy, and how to cope with the pressures of life as a soloist.
The Guardian
Britten's water music: recreating a world premiere with midges, vintage cars and an iPad
Oboist Nicholas Daniel loves Britten and his Six Metamorphoses after Ovid. But why is he performing them on a punt in the middle of a boating lake?
Classical Music Magazine
Winners of 2017 St Magnus Composers Competition announced
Andra Patterson and George Stevenson were jointly awarded the first prize for the over 18 category, and Gareth Flett and Joseph Rognvald Pickering won first prize for the under 18 category.
Classic FM
An incredibly poignant composition for the victims of the Grenfell tower tragedy – for 20 cellos and piano
As London mourns those lost in the Grenfell Tower fire, young composer Thomas Hewitt Jones has been moved to put pen to manuscript and compose a piece of music.
The Violin Channel
New Guinness World Record Set for Fastest Piano Playing Fingers
Portuguese-American pianist Domingos-Antonio Gomes has set a new Guinness World Record for the most piano keys hit in one minute
The Strad
How I cope with the pressures of life as a soloist – Jordi Savall
The viola da gamba player and conductor advocates concentrating on the little things rather than stressing about the whole
Pizzicato
Film composer wins Shostakovich Prize
Russian film composer Eduard Artemyev, as well as film director Nikita Mikhalkov were awarded the Shostakovich Prize on Saturday evening at Moscow's Tchaikovsky Concert Hall.
Der Tagesspiegel
Berlin zahlt Sing-Akademie 11,37 Millionen
Viel Geld für die Sing-Akademie: Der Chor wird vom Land für sein ehemaliges Gebäude Unter den Linden entschädigt. Das Abgeordnetenhaus hat jetzt die Einigung gebilligt.
Frankfurter Allgemeine Zeitung
Der größte Komponist seiner Zeit
Der Todestag von Georg Philipp Telemann jährt sich zum zweihundertfünfzigsten Mal. Siegbert Rampes exzellente Biographie erzählt vom Ansehen eines Komponisten, das selbst über Eheskandale erhaben war.
neue musikzeitung
Lichtspielszenen zwischen Wald und Meer – Wim Wenders' Operndebüt mit Bizets, Perlenfischern" an der Staatsoper
Gerade diese Oper zu inszenieren, war Wenders' expliziter Wunsch – da er ihre Musik so liebt.
El Mundo
La intimidad de los grandes del 'jazz'
Un libro recoge las imágenes del francés Jean- Pierre Leloir, que fotografió a corta distancia a las grandes figuras del 'swing' de los años 50 y 60
Los Angeles Times
Evolution, revolution, smevolution: The future of classical music
Classical music may be the art of the sublime, liquid architecture and all the rest, but it has nonetheless always been a long-suffering kingdom of kvetching.
Twitter
#Today in 1902 Birth of American #pianist and conductor Antonia #Brico#MusicHistory#classicalmusic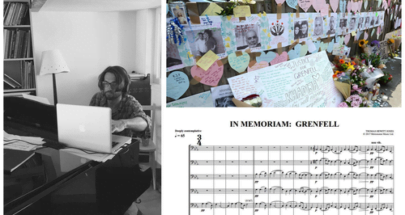 Classic FM: 'In Memoriam: Grenfell', by composer Thomas Hewitt Jones.