The New York Times
Spotify Losses Grow, Despite Successful Expansion
After five years, the streaming music service Spotify has established itself as a financial force in the music industry, with more than $500 million in revenue last year.
Gramophone
Grimes on the Beach comes to UK cinemas
Aldeburgh Festival's open-air production of Britten's Peter Grimes is screened nationwide on September 5
Classic FM
Floating pianist surprises riverbank sunbathers
It's not every day you're treated to a free open-air concert on the riverbank – especially when the performer is floating…
Royal Philharmonic Society awards £81,500 to young musicians
Composers, music students and instrumentalists all awarded grants to aid further study and music-making in tough economic times.
Big audience rise for Classic FM
More than 130,000 new listeners have switched on Classic FM over the last year, according to the latest official figures.
Limelight Magazine
Blowjobs rock Bayreuth while Barenboim's Ring resounds
Critics call time on Castorf's Ring while Barenboim shows Londoners how it should be done.
ITV News
Teenager swaps fairground for prestigious classical music festival
A talented teenager from Towyn, near Rhyl has been given the opportunity to work at the prestigious international festival of classical music.
Neue Musikzeitung
Verschiedene Ströme fließen zusammen: Zum Auftritt des Young Philharmonic Orchestra Jerusalem Weimar bei Young Euro Classic in Berlin
Als im Jahr 2000 das Festival Young Euro Classic in Berlin gestartet wurde, konzentrierte man sich noch auf Jugendorchester aus der Europäischen Union. Eine Ausnahme allerdings gab es: Israel.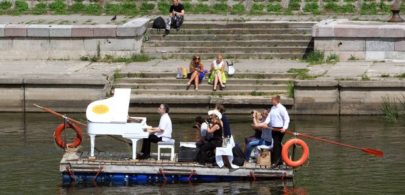 Classic FM