Guardian
Australian opera company drops Carmen over smoking scenes
Decision by West Australia Opera has left fans fuming, while PM Tony Abbott calls it 'political correctness gone crazy'
Times
The Schubert Project: which are his best songs?
As the marathon effort to perform all of the composer's songs begins, we ask the performers to pick their favourites
Telegraph
Guildhall School of Music takes on first ever rapper
Jack Derbyshire, who raps under the name 'Jackaboski', will study alongside violinists, cellists and harpists – watch his exclusive rap here
BBC Music Magazine
City Music Foundation announces 2014 artists
Three soloists and three ensembles selected for the classical artists programme
Classic FM
Classic FM records charity single for Global's Make Some Noise
'Steadfast' was written by Classic FM's composer-in-residence Howard Goodall and recorded by a galaxy of classical stars at Air Studios.
International Arts Manager
Huddersfield festival launches health strand
Huddersfield Contemporary Music Festival (hcmf//) will work with refugees and asylum seekers as part of its new Health and Wellbeing strand.
The Strad
Vienna Philharmonic to invest $1m Birgit Nilsson Prize in Historical Archives
The award is the largest of its kind in the field of classical music
Pizzicato
'Orchestre Philharmonique de Radio France' Won't Strike
The musicians of the Philharmonic Orchestra of Radio France threatened to strike for tonight's concert at Pleyel in Paris, but now they have reached an agreement with the radio station's general manager.
Der Tagesspiegel
Barrie Kosky bleibt bis 2022 Chef der Komischen Oper
Kurz vor seinem Abgang als Kultursenator hat Klaus Wowereit noch eine wichtige Personalie regeln können: Barrie Kosky, seit 2012 höchst erfolgreicher Intendant der Komischen Oper, wird bis 2022 in Berlin bleiben.
KLASSIK.COM
Dresdner Bachfest 2016 finanziell auf der Kippe
Dresden, 10.10.2014. Der Dresdner Kulturbürgermeister Ralf Lunau (parteilos) hat angekündigt, die Bewerbung der Stadt für das Bachfest der Neuen Bach-Gesellschaft im Jahr 2016 zurückzuziehen.
NPR Music
The Atlanta Symphony Lockout Continues, Musicians Picket On Peachtree Street
The Atlanta Symphony Orchestra was scheduled to open its 70th season this week, but musicians have been locked out of their workplace since September 7th, when their contract expired.
france musique
Fin de la grève à l'Orchestre Philharmonique de Radio France
Les musiciens de l'Orchestre Philharmonique de Radio France ont décidé de lever leur mouvement de grève prévu.
L'Opéra de Montpellier en difficulté
L'Opéra Orchestre National de Montpellier pourrait se retrouver en cessation de paiement à cause d'une subvention de la Région qui tarde à être versée.
Twitter
Royal Opera House ‏@RoyalOperaHouse: Happy Stage Management Day! Check out @SMAssoc for details of Twitter takeovers & other events ^E #StageMgrs14
Gdn Culture Pros ‏@GdnCulturePros: Regional arts funding imbalance will worsen significantly, warn arts leaders http://dlvr.it/78yfw1  #arts #culture
PRS Foundation ‏@PRSFoundation: ICYMI: We've partnered with @SteveReidFNDN and launched a new funding programme #SteveReidAward – Find out more: http://ow.ly/BOjU5
YCAT ‏@YCATrust: A riveting lunchtime concert with YCAT trombonist @pete_moore_ and pianist @45thompson at @BarberInstitute, today! – http://bit.ly/ZT5rW0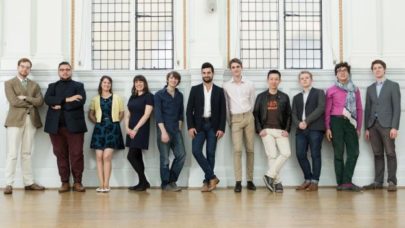 City Music Foundation 2014 Artists.Photo: B Ealovega