Help Musicians UK Announce Latest Funding Recipients
The independent charity will support 57 musicians from across the UK with it 360-degree fund Do It Differently.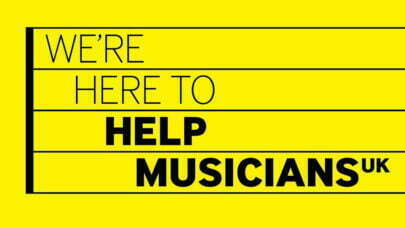 The latest announcement marks an increase in the number of individual musicians that represent a mix of genres to receive support. Help Musicians UK work in partnership with the British Association of Performing Arts Medicine (BAPAM) and Think Music to champion the UK's DIY talent through the Do It Differently scheme.
The Do It Differently fund provides comprehensive support to independently driven music creators, which grants awardees up to £3000 towards creative output and a further £2000 towards one-to-one business guidance and wellbeing tools. The latest awardees come form across the UK, with seven acts based in London, eight from the rest of England, five from Northern Ireland, two from Scotland and two from Wales.
---
East Neuk Festival unveils The Drying Green
Scotland's East Neuk Festival has unveiled a new art installation, The Drying Green, ahead of its 2019 festival beginning this Wednesday (26 June).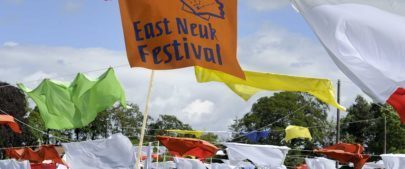 The Drying Green is set within the meadow of the National Trust for Scotland's Kellie Castle in Pittenweem, Fife. A concept imagined by festival director Svend McEwan-Brown, the installation is the latest in a series of ENF projects to celebrate an aspect of local history and community. It is inspired by the traditional drying greens still found in most villages in the East Neuk of Fife – communal places shared by the neighbourhood where clothes are dried. On 29 June, the installation will become a backdrop to The Garden Party, the festival's afternoon of family friendly music and activities including pop up concerts from the Tullis Russell Mills Band.
---
Bachfest Leipzig 2019 beendet: »International wie nie zuvor«
Mit dem feierlichen Dona nobis pacem der Messe in h-Moll von Johann Sebastian Bach ‒ musiziert vom Tölzer Knabenchor und dem Pariser Ensemble Opera Fuoco ‒ endete in der ausverkauften Thomaskirche am 23. Juni das Bachfest Leipzig 2019.
158 Veranstaltungen wurden in zehn Tagen von 73.000 Musikliebhabern aus mindesten 44 Nationen besucht. Unter dem Motto Hof-Compositeur Bach« erklangen in dieser Festival-Saison festliche Werke, die Johann Sebastian Bach in Weimar und Köthen oder für verschiedene Regenten komponierte. 56 Reiseveranstalter aus 12 Ländern organisierten Bachfest-Reisen für ihre Kunden, so viele wie nie zuvor in der 20-jährigen Geschichte des Festivals.
Insbesondere der Weimarer Kantaten-Ring« am zweiten Wochenende begeisterte die internationale Bach-Gemeinde. Der Zyklus war eine Fortführung des außerordentlich erfolgreichen Kantaten-Rings 2018 und präsentierte 17 für den Weimarer Hof komponierte geistliche Kantaten Bachs. Diese wurden in 5 umjubelten Konzerten am zweiten Bachfest-Wochenende unter anderem in der Thomas- und der Nikolaikirche aufgeführt, die Auslastung lag bei 92%.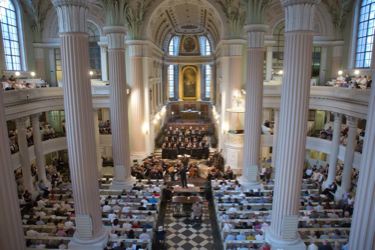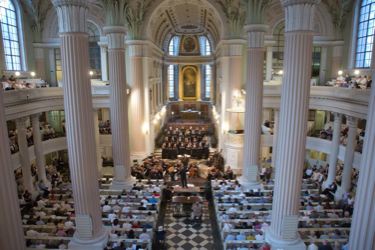 Bachfest Leipzig 2019 ended: "International like never before"
The Bach Festival Leipzig 2019 ended with the solemn Dona nobis pacem of J.S Bach's Mass in B minor – performed by the Tölzer Knabenchor and the Paris ensemble Opera Fuoco – in the sold-out Thomaskirche on 23 June.
158 events took place over ten days and were attended by 73,000 music lovers from at least 44 nations. Under the motto "Hof-Compositeur Bach", festive works composed by Johann Sebastian Bach in Weimar and Köthen or for various regents were performed during this festival season.
The cycle was a continuation of the extraordinarily successful Cantata Ring 2018 and presented 17 sacred cantatas by Bach composed for the Weimar court. These were performed in 5 highly acclaimed concerts on the second Bach Festival weekend, among others in the Thomas and Nikolaikirche.