Classical News
In today's news, Iestyn Davies discusses the challenges of being Farinelli, and the Royal Northern College of Music launches its first ever four-year BMus in popular music. Also, Coady Green reports on a unique concert in the Himalayas, and The Telegraph writes Alexander Faris's obituary
The Guardian
The King and I: Iestyn Davies on being Farinelli
In a play about the healing power of song, who does the singing? Countertenor Iestyn Davies ponders the challenges of breathing life into the castrato singer Farinelli in Claire van Kampen's play
Classical Music Magazine
RNCM launches UK's first four-year degree in popular music
The Royal Northern College of Music (RNCM) is launching the UK's first ever four-year BMus (Hons) degree in popular music on 1 October
The Strad
Hong Kong's MTR reviews ban on large musical instruments following criticism from orchestras
The railway company had threatened to issue fines and refused entry to students for carrying cellos
The Telegraph
Alexander Faris, composer – obituary
Composer who wrote the theme tune for Upstairs, Downstairs and orchestrated music for Pavarotti
BBC Music Magazine
Pianist Coady Green reports on a unique concert in the mountains
Artsjournal
Nonesuch Records Chief Robert Hurwitz To Retire After 32 Years
When executives at big record companies leave their jobs, there is usually a quick announcement and a scramble behind the scenes to install a new regime.
NPR classical
'We Need To Be Human': Zuhal Sultan On Starting The Iraqi Youth Orchestra
It's difficult enough to start an orchestra, but Zuhal Sultan founded the National Youth Orchestra of Iraq (NYOI) as a teenager in the middle of a war. She brought together 40 young musicians from different Iraqi cities and sectarian backgrounds in an effort to unify a divided nation. Now, six years later, the Euphrates Institute has named her Visionary of the Year.
Berliner Zeitung
Schön Rumstehen mit Blick auf die Elbe
In Hamburg traf sich die Musikindustrie zum Reeperbahn Festival. Während in Berlin Musikindustrie-Events nie geklappt haben, sind die Hamburger ehrlich und auf Zack: Auf dem Reeperbahn Festival werden Hände geschüttelt, nicht viel mehr. Völlig ausreichend, findet unser Autor
Die Welt
Nun ward der Herbst unseres Tenorvergnügens
Der Klangritter von hohen B: Der Tenor Jonas Kaufmann räumt mit Giuseppe Verdi und Giacomo Puccini bis in die Popcharts ab. Ob CD, Kino oder Oper, er ist überall. Und er ist immer exzellent.
Musik Heute
"Opernhaus des Jahres" in Frankfurt und Mannheim
"Opernhaus des Jahres" 2015 sind die Oper Frankfurt und das Nationaltheater Mannheim. Das ergab eine Umfrage unter 50 Musikkritikern in Europa und den USA, die die Zeitschrift "Opernwelt" am Mittwoch veröffentlichte.
France Musique
Démission du chef d'orchestre Jean-Yves Ossonce, directeur de l'Opéra de Tours
Jean-Yves Ossonce, directeur du Grand Théâtre lyrique de Tours et chef de l'Orchestre symphonique Région Centre – Val de Loire – Tours a annoncé sa démission via un communiqué.
Le Parisien
La filière musicale française s'accorde sur les revenus du streaming
La filière musicale française a annoncé mardi avoir conclu un "accord" pour une "juste répartition" des revenus issus du numérique, pomme de discorde dans une industrie en crise depuis 15 ans qui voit son salut dans le développement du streaming.
Twitter
The Royal Opera ‏@TheRoyalOpera : Mozart's Magic Flute had its premiere #onthisday in 1791
Classic FM ‏@ClassicFM : Stars so far in our radio play for @makenoise Davids Tennant & Suchet More on bfast tomorrow http://www.classicfm.com/radio/charity/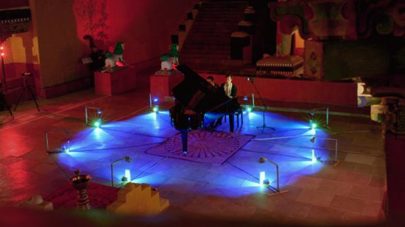 Coady Green and Christopher Wayne Smith performing in Ladakh (Picture courtesy of Scriabin in the Himalayas)/BBC Music Magazine