Today's 'Industry Idols' interview is with Reviews Editor of Classic FM Magazine, Andrew Mellor.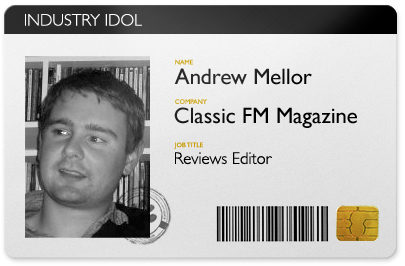 What are the first, most important steps a young artist needs to take when they embark on their career as a performer?
Keep your eye on the competition, keep re-assessing your abilities and your product, and don't forget that no matter how talented you are, you're not owed a living – nobody is
What was your first job in the music industry?
Marketing Assistant at Manchester Camerata. Learnt a thing or two about how a junior arts-admin post works – basically if you make the tea, you'll go far. I only wish I'd made some tea…
What skills do you think are needed to succeed in the music industry?
Passion, perception, contextual awareness and the ability to spot a bullshitter at 20 paces. And no matter what part of the music industry you're in, never stop consuming and loving music. If you ever do, go work for a bank – apparently the money's better.
What's the most important thing you've learnt during your career?
If I don't know the answer to a question I've learnt to respond with the words 'I don't know the answer to that question'
What do you enjoy most about your job?
Listening to music, discovering music, helping other people discover music, laughing with my brilliant colleagues and foreign travel – I'm planning a book about airports.
On a typical working day, what's the first thing you do when you get into the office?
Open parcels full of CDs, DVDs and books. It still feels like Christmas Day every morning, and my colleagues are still dumbfounded that I find it so exciting.
Do you think there is anything in the classical music industry that needs to be changed? If yes, why?
Yes – we need to look at our industry's extremes: on the one hand pretentious ego-llectuals who believe art music can only be touched, enjoyed or criticised by certain chosen individuals who 'understand' it; on the other hand the profiteers who also think the public are stupid and think great music has to be watered down before anyone normal can enjoy it. If we can begin to persuade both those groups that they're wrong, we're on to something.
Are there any young musicians, emerging venues, exciting companies, composers… etc that you are keeping your eye on?
Conductor Lionel Bringuier knocked my socks off at the Proms – I wasn't even there, I was painting my bedroom! My preoccupation with the Finnish soprano Helena Juntunen continues unabated and the restraining order is yet to come through… I also find conductors Daniel Harding and Klaus Tennstedt fascinating to the point of obsession and the Borusan Istanbul Philharmonic Orchestra is the ensemble I'd most like to hear live right now. I've also discovered the Canadian vocalist Holly Cole recently. Her voice is a thing of wonder
Where do you read about classical music?
The Guardian, Keith Clarke's finely-tuned editorials in Classical Music, Gramophone, Gig, Finnish Music Quarterly, Wikipedia, Grove, inside CD sleeves and on the pages of Classic FM magazine when they arrive on my desk for proofing
Where is your favourite place in the world for classical music?
On my iPod on a train. Or at the Bridgewater Hall, Royal Festival Hall, London Coliseum or anywhere in Finland or Scandinavia – they're the only places people don't look at me as though I shouldn't be there