This week's Industry Idols interviewee is Sarah Derbyshire, the Executive Director of Live Music Now.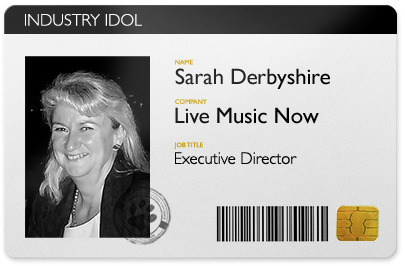 What are the first, most important steps a young artist needs to take when they embark on their career as a performer?
Be open to as many opportunities to perform as possible (even if they don't pay well!) and explore your music's power to communicate, both in and outside the concert hall.
What was your first job in the music industry?
PA to MD of Faber Music
What skills do you think are needed to succeed in the music industry?
Flexibility, imagination, tenacity.
What's the most important thing you've learnt during your career?
You are not indispensable (works both ways).
What do you enjoy most about your job?
The creativity and commitment of my colleagues, working with such talented and generous spirited young musicians, seeing the amazing power of music to connect and change lives.
On a typical working day, what's the first thing you do when you get into the office?
Check yesterday's to do list before allowing emails to rule my day!
Do you think there is anything in the classical music industry that needs to be changed? If yes, why?
Where to start?! Better balance between fame and genuine talent; more open and accessible concert formats without falling in to the gimmick trap.
Are there any young musicians, emerging venues, exciting companies, composers… etc that you are keeping your eye on?
LMN's wonderful musicians!
Where do you read about classical music?
I'd rather listen.
Where is your favourite place in the world for classical music?
Harder to answer than I'd expected…. London for the rich variety on offer every night of the week. Berlin: I've never been without going to a really memorable concert or opera.